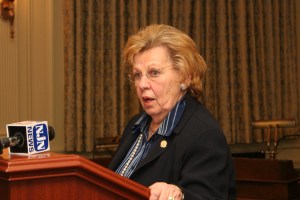 TEANECK – On the day that former U.S. Secretary of State Hillary Clinton is set to arrive at a Bergen County bookstore to sign copies of her latest book, State Senate Majority Leader Loretta Weinberg (D-37) made it unequivocally clear as to what her position is if fellow Democrat Clinton ultimately decides to run for President in 2016.
"Yes, I support Hillary Clinton," said Weinberg, of Teaneck, in an interview with PolitickerNJ.com. "She has eight more years of experience, and so have I."
Weinberg's reference to eight years ago hearkens back to when she backed Barack Obama, not Clinton, for president during the 2008 Democratic presidential primaries. During the epic duel between the two rivals, Weinberg called out Clinton for "acting like one of the boys" when what she felt the country needed was a bold and decisive alternative. Weinberg was also displeased with Clinton's support of the Iraq war resolution in 2002 when Clinton was a U.S. Senator representing New York state.
But on Thursday, hours before Clinton comes to Ridgewood to the Bookends bookstore to promote her book "Hard Choices," all was apparently forgiven by Weinberg.
"[Clinton's] foreign policy experience will stand her in good stead," said Weinberg, in reference to Clinton's service as America's chief diplomat from January 2009 to February 2013. "Based on what I know today, I'd be very happy to support her for president."
The names of other potential Democratic presidential candidates who are seen by some political observers to have a more progressive perspective than Clinton have been bandied about, including U.S. Senator Elizabeth Warren (D-MA), a Rutgers-Newark Law School graduate.
Weinberg, who has taken many progressive positions in her political career, said she would make her judgment on any potential presidential candidate based on key national issues.
"First, moving along the economy while keeping in mind the growing disparity between rich and poor, second, keeping the balance between America's leading role in the world yet protecting our own country's interests, and the type of social issues highlighted by recent Supreme Court decisions," Weinberg said. "These issues are all important for me and for the country."
Finally, PolitickerNJ.com also asked Weinberg about the potential 2016 presidential election match-up that many political pundits and casual observers both want to see: would Hillary Clinton beat Republican New Jersey Governor Chris Christie in a 2016 High Noon-style showdown?
"Hillary would absolutely win New Jersey, no question," Weinberg said. "She would absolutely kill him, not literally, but vote-wise."