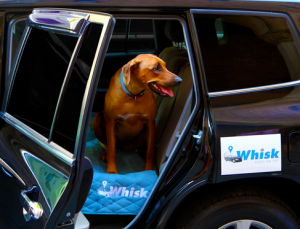 There's truly nothing more annoying that trying to make it to Sunday brunch on the Upper West Side, only to find your cab driver won't let you bring your Miniature Goldendoodle along for the ride.
Thankfully for all who've suffered through that, on-demand car service Whisk has introduced a new feature connecting pet owners with pet-friendly drivers, the company announced in a press release today. 
Starting this afternoon, Whisk users will be able to click the pet icon to find pet-friendly drivers nearby, in real time. An extra $10 fee will be added to rides with pets, but hey, it's better than bringing your psychotic pomeranian onto a packed subway car.
Whisk CEO Michael Ibrahim was inspired to create the feature when his dog broke her leg, and he needed to bring her back and forth to the vet. "Our elevator was broken so we fire-carried our 60-pound puppy up and down eight flights of stairs and 20 blocks to the vet. It was nearly impossible to find a cab on the street that would welcome Bafana," he said in the release.
The service is probably also a way for Whisk to differentiate itself from the other ride share apps currently dominating the market.
The service isn't limited to dogs and cats. Other animals are welcome, too, but within reason.
"Even the friendliest animals have claws that can damage seats, so pets should be kept in a cage, on the floor, or on the provided blanket on the back seat," the release states. "Drivers may refuse a ride if a pet is excessively dirty or if they feel a poorly restrained animal endangers them or their vehicles."
Probably best to leave your Hungarian Horntail at home, then.