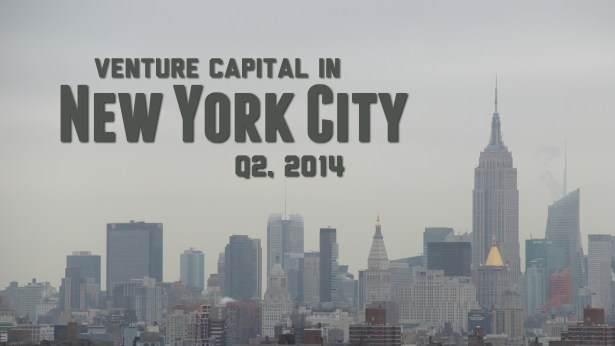 With all of the excitement over buzzworthy trends like food delivery apps, Internet of Things appliances, wearables and 3D printing, it's tough to sort out the real trends from the hype. But if you need a reliable way of figuring out what's really taking off in tech, your best bet is often to follow the money.
CB Insights, a VC analytics database — or "OkCupid for venture capitalists," as they've said — put out their big Venture Capital Activity Report for Q2 this morning. The 114-page paper digs into the national VC investment scene and highlights major trends.
Some things in the report come as no surprise: Silicon Valley is still number one, Massachusetts loves health companies and Austin is still a tiny tech scene. But New York tech is a constantly shifting landscape, where age-old NYC industries like real estate and finance are pouring dollars into ambitious startups, and forces like Hurricane Sandy pressure the city to bring some innovation to the New York power grid.
It's no wonder New York can't be held accountable for abominations like Yo and Justin Bieber's selfie app — we have real problems to solve.
We dug into the report to highlight New York City's tech priorities from April to June in 2014.
First off, it doesn't take a prophet to see that Internet use is shifting to mobile. Unfortunately, New York doesn't care, and non-mobile Internet investments continue to dominate. In Silicon Valley, 17 percent of investments were in mobile-first startups, with only 46 percent in Internet. Compare that to the NYC spread: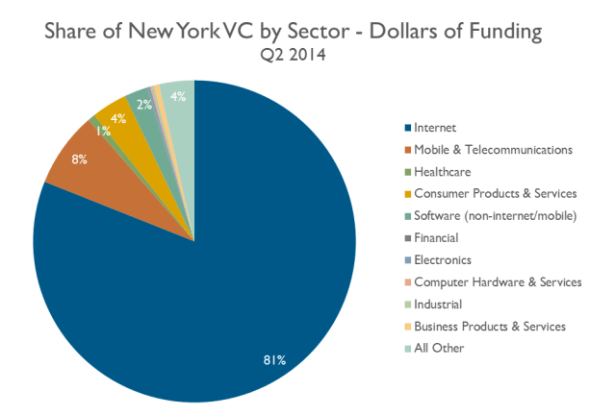 This isn't an issue of being behind-the-times, but that NYC scene is sticking to what it does best. This city is internet startup heavy, and New York simply hasn't had a horse in the mobile race for years.
"A couple of years ago, Foursquare looked like it would be New York's breakout mobile company, and then it wasn't," CB Insights founder Anand Sanwal told Betabeat, putting it kindly.
It could be a while before New York catches up to the Valley — in terms of sheer number of deals, mobile investments in NYC reached a low that hasn't been seen in years, and there's nothing to suggest a coming surge.
Instead, New York investors are interested in fields that have less luster, but are in desperate need of attention.
Cleantech is a sector without much glamour, and has seen a few bad quarters in the past year or two. But in Q2, the sector saw an unexpected bump in New York. This is likely due to two new trends:
First, the definition of clean tech is becoming more viscous and diluted, which makes it hard to tell who really belongs in the category. For example, ride sharing app Bandwagon is often lumped in with solar energy and infrastructure startups, because sharing rides cuts back on cars, which cuts back on fuel emissions.
"You could also look at companies like Nest," Mr. Sanwal said. "I don't think Nest calls itself clean tech, but using Nest lowers energy consumption, which would fall into one definition of clean tech."
The second is the interest in tech startups from clunky institutions like utility companies, hospitals and the grand ol' City of New York.
"Those big incumbents are looking for innovation," Mr. Sanwal said. "Investing in emerging companies is a good way to do that without having to innovate internally within a monolithic organization."
This trend is best represented by the two biggest investments in New York, which were both in health companies: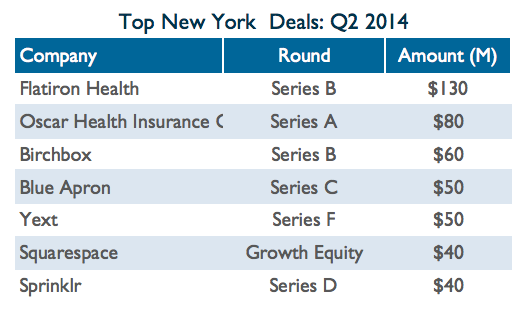 It should also be noted that the rest of the leader board is littered with later stage investments showing that New York is growing more mature startups.
NYC is never going to be Silicon Valley, which took a kingly 64 percent of all American VC cash in Q2. But at least New York startups are set on bigger tasks than another crappy dating app.