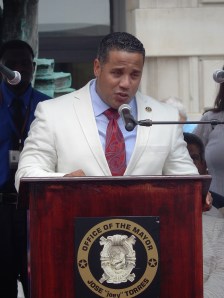 PATERSON – Decked in Panama Jack white and projecting strongly and sonorously into the courtyard, newly sworn-in At-Large Councilman Alex Mendez gave off future mayor vibes.
"This is the beginning," he proclaimed, reminding the crowd that he was the top vote-getter in May citywide elections.
His son introduced him, filling in autobographical details of his immigrant father's journey from the Dominician Republic to work at a local bodega on his bicycle to opening and operating his own livery service.
A school board member turned citywide player, Mendez gave a typical "you are the change you seek" speech, heavy on gratitude and marked by repated overtures to wanting to work with Mayor Jose "Joey" Torres.
When he finished, the new councilman pulled himself into an embrace with the mayor.