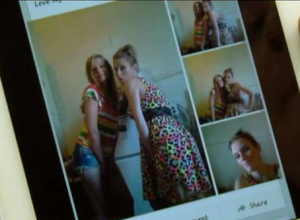 When will criminals ever learn?
Over the weekend, the owners of Mortie's Boutique in Illinois said their store was robbed of a rather distinctive "leopard color dress." The store's surveillance video showed a woman breaking into the store and taking several items, including that dress. So, they made a Facebook post to ask if anyone in the apparently small town of West Frankfort had seen the dress.
It worked. Soon after, someone sent them a picture of 27-year-old Danielle Saxton taking a selfie with the allegedly stolen $350 dress. "Love my new dress," she captioned it on Facebook, posing with her best duck lips.
The police arrested her and charged Saxton with "retail theft less than $300," reports KFVS-TV. Her shoplifting haul also included sunglasses, a necklace, and two T-shirts.