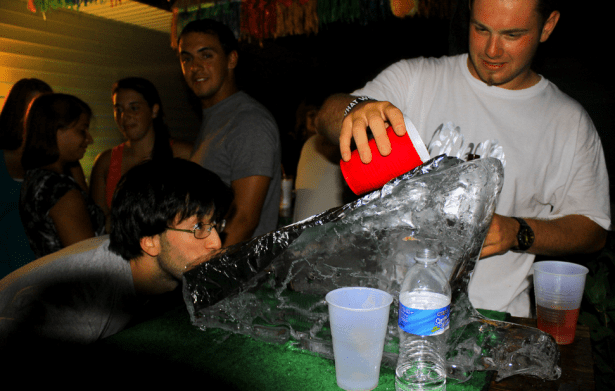 There are so many apps to spice up the Modern Gatsby's Fourth of July plans. A privately chartered helicopter to the Hamptons? Check. A car service for all of the plebeians who are taking the LIE? Check. An ice sculpture that gets everyone plastered once they arrive? Oh yes, there's an app for that, too.
WunWun, a Postmates-like delivery app for "your every need," will be delivering ice luges to the Hamptons for the holiday weekend, so you can celebrate our great nation's independence with alcohol poisoning.
If it's not crystal clear in the above image, an ice luge is a sculpture that has a carved-out trench: pour alcohol in at the top, position your mouth — or cup, if you're a square — at the bottom and look like a college freshman at his first fraternity rush event in the process.
The luges are available for $125, which a WunWun representative told Betabeat is a very competitive price point in the ice luge market. You have to order by 5 p.m. and they expect demand to be "very high," so plan ahead.
And if you're just thinking of going to that coworker's Park Slope BBQ or the rooftop party your roomate's job is throwing? Sorry, no ice luge for you: this weekend, drinking from sculptures is the exclusive purview of those who can afford to go out east for the weekend.