Now that rental platforms exist for cars, helicopters and private jets, it's only fitting that a tech startup would come along and disrupt the high seas.
The nationwide watercraft rental startup Boatbound has done just that. It's basically like a boat club without the annual membership fee and monthly dues. Users only pay when they want to rent a boat, and they can use Boatbound to find a boat anywhere in the US.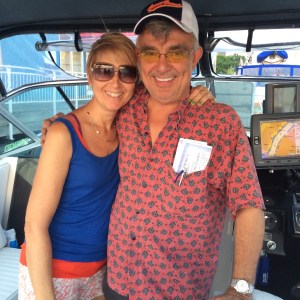 It's basically like Airbnb for boats, Katherine Menard of Boatbound told Betabeat. We were lucky enough to test the service last Friday, when we enjoyed a boat ride from Chelsea Piers to the Statue of Liberty and back again with the Boatbound crew, a few other journalists, and a delightful boat-owner and his wife.
Boat owners can vet renters to decide whether they're comfortable entrusting their boat with them, Ms. Menard said. Most states don't require boaters to have licenses, so boat owners will examine renters' experience to decide whether they're comfortable handing over the wheel. Many owners will gladly volunteer to pilot the boat while the renters just enjoy themselves. People with sailboats are especially eager to do this, Ms. Menard said.
Boat owners determine how much to charge renters for their boat. Renters pay a five percent service fee to Boatbound on top of the price, and boat owners pay 35 percent to Boatbound. Prices vary, but Boatbound has recommendations for fair pricing.
Boatbound has officially launched in the Bay Area and New York City, but the service is available throughout the US, wherever people are willing to provide their boats. The NYC offerings range from less than $450 per day for fishing boats to $7,000 for a 97-foot luxury yacht. Split the cost with a few of your friends and bring your own Coronas; it beats laying out on your dingy rooftop for the fifth Saturday in a row.