Even before Paul Critchlow and Patricia McCormick put their Perry Street home—a renovated 1818 townhouse on a massive private garden—on the market back in 2008, the place attracted abnormally enthusiastic interest. The couple's dog walker, for example, availed herself of the gracious marble tub in the master bathroom; a house painter they'd hired took the liberty of sleeping nude with his girlfriend in their bed, where a cleaning woman discovered them. A Daily News reporter rhapsodized that upon entering the home, one might feel they were in Tuscany, or, strangely, the 1930s.
The buyers of Mr. Critchlow's and Ms. McCormick's latest apartment, a penthouse condo at 299 West 12th Street, which just sold for $9 million according to city records, have little chance of mistaking their continent or era, but then again, they did get a nearly $2 million discount on the place, which was listed with Diane Nichols at Douglas Elliman. (Convincingly transporting domestic environments simply cannot be had for less than $10 million these days.)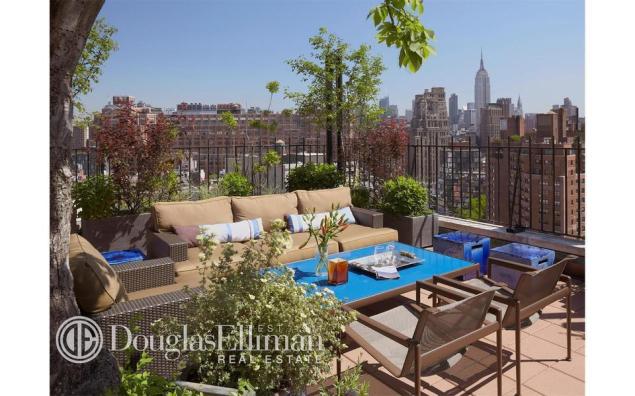 Ms. McCormick, a well-regarded author of socially serious young adult novels, and her husband, a Merrill Lynch executive, moved from Perry Street as their children were preparing to fly the coop, as a means, allegedly, of entering a "romantic" phase of their relationship. Hubba hubba. The condo is spacious and modern, with a sleek, spare layout and plenty of air and light. There's a wood burning fireplace and French doors that open onto one of two terraces, which combine for 800 square feet of outdoor space. An invisible built-in sound system might pipe a romantic soundtrack of say, Luther Vandross and Marvin Gaye, or something somewhat less suggestive—the place also looks great for parties, and the departing owners leave behind a spare bedroom. You know, for when the kids visit.
The building, a 1931 Bing & Bing construction of Emery Roth design, has lured bold faced buyers in the past—Jennifer Aniston, hairstylist to the stars Sally Hershberger—but we can't say for sure who the new owners of Mr. Critchlow's and Ms. McCormick's place might be. They're known in city records only as 299 Unit PH LLC. Perhaps the novelist can take up the mystery as the subject of her next book. Real estate, after all, always makes for hot copy.