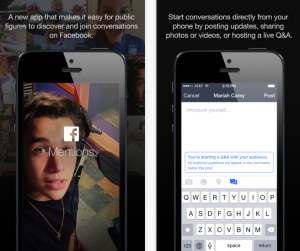 Being popular is hard. But being social media popular is really hard.
Facebook released today a new iPhone app called Mentions, but you're not cool enough to use it. It's only "verified public figures" — i.e. Katy Perry and others who have a blue check mark next to their names — in an effort by the social network to wean them off competing websites (cough, Twitter, cough) when they feel the urge to overshare.
Re/code reports that the app has been in testing for a year and Facebook product managers tell the site that celebrities have been posting "twice as much" as before.
The app, at least judging by the screenshots in the Apple store, looks like a stripped-down version of Facebook. There's heavy emphasis on posting messages and photos. There's also less of an emphasis on the News Feed and a Mentions tab (a centralized stream of people that is mentioning the figure) that weirdly resembles Twitter's.
Supposedly "tens of thousands" of people, like Austin Mahone, will have access to the app today, with more users will be able to use when it rolls out internationally.