I cannot believe that I will turn 40 years old tomorrow. Surely, I am representative of that old saying about men who get older but do not ever grow up. There is so much to celebrate – great family, awesome kids a successful business, but where did it all go?
The Scottish dramatist Sir James Matthew Barrie said that "God gave us memory so that we might have roses in December." At 40, I'm not quite in December just yet, but I do have so many New York memories, having been born and raised in this great city.
I do not remember much about my first few years in Brooklyn, where it's said that one in seven Americans trace their roots. My childhood memories are all Bronx-based, where I moved from the age of three. From sleigh-riding in Ewen Park down steep hills, where the only way to stop was by banging into the parked cars at the bottom of the hill, to my father opening fire-hydrants in the hot summer, well before anyone thought about saving water or had a clue what "green-friendly" meant. Of course, my obsession with the soft drink Mello-Yello ended a few years later, when Mayor Koch told us "If it's yellow, let it mellow. If it's brown, flush it down." Yes, politicians used to talk that way.
I remember President Reagan being shot. No, I wasn't a history geek – I was 6 years old and cried because Batman & Robin was interrupted on TV when I had just returned home from school. When I tell my kids that story, they don't understand why I couldn't just flip to one of the other thousands of cable stations – and look at me like a dinosaur when I explain there were only a handful of channels back then – and aghast, no iphones.
I vividly recall the original Yankee Stadium, and attending the 1981 playoffs, when Reggie Jackson, the superstar of the Yankees, flipped me a baseball.  My beloved Yankees beat the A's for their sole 80s pennant in a brutal decade of futility; they lost to the Dodgers in the World Series that year. How many days I spent playing sports outdoors as a kid, and it didn't require any intricate get-ups – we would just leave in the morning and spend hours and hours in the park. We'd manage to find a quarter to call from a pay-phone and say we'd be home late.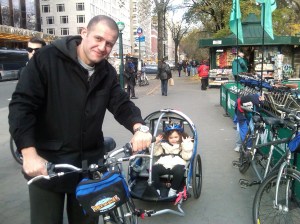 New Yorkers then were constantly aware of racial tensions. I vividly remember the passionate discussions when Eleanor Bumpurs was shot and killed in 1984; she was being evicted for being four months behind in her rent (which was $98.65). And then the vigilante Bernie Goetz shot four kids who he says tried to mug him – a jury acquitted him of all but the least serious charge. Howard Beach, Crown Heights – how the world has changed with an African-American President, and an inter-racial family in Gracie Mansion.
I took the specialized High school tests, and my mom had to drag me kicking and screaming to attend Stuyvesant High School, rather than my local zoned John F. Kennedy High School. I dreaded the thought of 1-1/2 hours a day on the subway each way – and all my friends were local. My mom persuaded me, and in retrospect of course was so right.  And those merit-based tests should remain in place as a way to help smart and gifted New York City kids get ahead.
The American novelist Rita Mae Brown wrote that "One of the keys to happiness is a bad memory." That might be true, but New Yorkers will do well to remember some of the details of our recent past. The Central Park jogger case was a horror for the city – as were squeegee men, porno shops and drug pushers on every corner. I am amazed that any native New Yorker cannot feel better about this city once Rudy Giuliani came to power. He was a firm and strong leader – and brought order to this jungle called New York.
I remember my mom, Penny Waga, who remains my hero to this day, reading obsessively about the case of "Baby Hope." Four-year-old Anjelica Castillo's remains were found rotting in a picnic cooler in June 1991, near the Henry Hudson Parkway not far from my house. (The case wasn't solved until October 2013.)
I worked for more than 11 years in a local pizzeria, where I was paid in cash, starting in 1986 at $2 an hour. From mopping floors to delivering pizza, I do not recall any child labor laws, but I do know I never got parking tickets because I put a menu in my window which said "delivery boy." Gambling took place constantly there – without consequences those days in the Bronx. In my fond memories, that New York had a sense of community, where kids got spanked if they deserved it, and neighborhoods had their own rules. There were not big commercial concerns everywhere.
Those of us who remember the old World Trade Center can never forget its effect upon the skyline, and what life in this city was like before the city felt seized by terrorists. For the eight years between the first attack that killed a handful of people and the attacks of Sept 11, 2001, we collectively pretended we were less vulnerable than we clearly were. No more muggers at our doorway, now it was terrorists attacking via planes.
As I started building my career, I moved to the Upper West Side, and founded my PR Agency. How proud I was, as a New York City born-and bred boy, to make the big move to Manhattan. I remember meeting people who called themselves New Yorkers because they lived in Manhattan a few years. (Note: They still aren't real New Yorkers.)
As an adult now, time and perspectives are different. It's about family, and kids and business. So, the US Airways Flight 1549 which landed in the Hudson is an after-thought, as it came when I was away on a business trip. I do remember sobbing a few years ago when 8-year old Leiby Kletzky was found dead in Brooklyn after being kidnapped – as a natural fear as a parent. We can keep people "alive" by remembering them; as Guy de Maupassant wrote, "Our memory is a more perfect world than the universe: it gives back life to those who no longer exist." But it's not the same when you're 40 as when you're 10. Hurricane Sandy came and went –I rode my bike all over the city the day after, inspecting damage, but it didn't sear its way into my memory the way it would have when I was a child.
Tomorrow, August 25, 2014, I will be 40 years old.  What will this city bring me in what I hope will be a life until 120? I never cared about age till now, but am admittedly not happy about this age change. It's scary.
Yet, as I walk outside, and feel the awesome-energy this great city provides, from yellow cabs to pretzel vendors, non-stop noise to corner bodegas, I know that New York City is a constant, and I too am constant. Onward, and upward for this New Yorker.