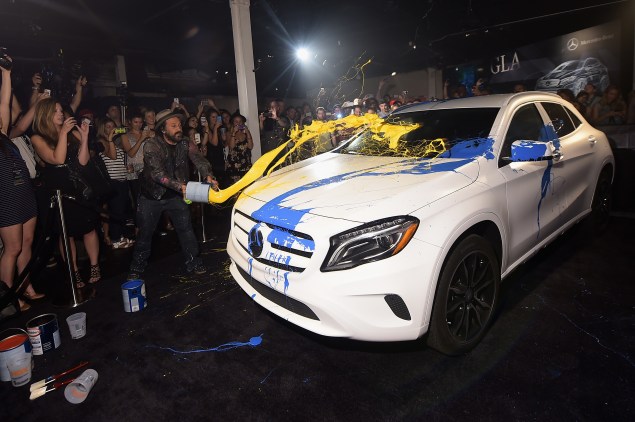 This lifelong New Yorker has recently started collecting art – but I had no idea that my new passion would bring me moral dilemmas. I am not talking about the sort of high-profile scandals that Madison Avenue gallery owner Helly Nahmad faced. I seek art that will look great, and increase in value, but I simply will not buy art work (or from artists) that is fundamentally opposed to my world views.
Art isn't always just art. Thankfully, some decisions are easy.
Saint-Paul de Vence is a breathtaking village in the South of France where Marc Chagall lived. Chagall was immersed in Judaism and wrote of being deeply moved by our holy places. Chagall's message is inspiring for anyone of any religion who believes in spirituality – as he said, "Ever since early childhood, I have been captivated by the Bible. It has always seemed to me and still seems today the greatest source of poetry of all time."
Now, if every art purchase could be that easy. I love street art – but Shepard Fairey is off-limits given his Obama "Hope" work.
While international street artist Banksy captured weeks of headlines in New York City last summer — and I love his style — his politics leave a lot to be desired.
In October 2013, Banksy said that One World Trade Center was a "shy skyscraper" that "so clearly proclaims the terrorists have won." His words are an insult to America. Similarly, during a visit to Israel he created nine pieces of graffiti on the so-called "West Bank" barrier. While he is entitled to his opinion that the wall "essentially turns Palestine into the world's largest open-air prison," any self-respecting American Jew is entitled never to spend a penny on his art.
Thankfully, in the same genre of street art is Mr. Brainwash (MBW), a Paris-born, Los Angeles-based street artist, whose real name is Thierry Guetta. He first came to fame through a 2010 film called Exit Through the Gift Shop, and his art is cheerful, fun and upbeat. He is seemingly politically uninvolved – perfect. (Investors, however, warn his work is overpriced.)
Recently, at an auction for a great charity, I won a bid for a bright gorgeous symmetrical piece by my friend, Ron Agam. The message – and his art was great. Now, if it only matched the décor in my home….
No one ever said collecting art in New York was easy.
Ronn Torossian is a Public Relations Executive, author of best-selling PR book For Immediate Release, and aspiring art collector.