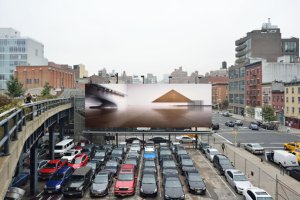 Yes, the Whitney Museum is still going strong uptown. It's not closing for another few months. In fact, it's so not closed that they've just started opening up on Mondays, just to handle the massive crowds coming to see "Jeff Koons: A Retrospective."
But, come next springtime, the Upper East Side building will be making way for the Met, and the Whitney will be in the Meatpacking District. It's preempted this move by placing an enormous Alex Katz digital print on the TF Cornerstone building abutting the High Line, and that's just a few steps away from the Ed Ruscha's first public art piece in New York, "Honey, I Twisted Through More Damn Traffic Today," which was commissioned by High Line Art.
And the latest artist to contribute some massive public work to everybody's favorite refurbished train track is Louise Lawler, whose "Triangle (adjusted to fit)" (2008/2009/2011) will be placed on a billboard at W. 18th Street and Tenth Avenue, The Times reports. It's a photo of a room in Sotheby's that contains works by Frank Stella, Sol LeWitt and Donald Judd. How nice.
Here's High Line Art's Cecilia Alemani on the work:
"This picture turns artworks into strange UFOs hovering over the streets of Chelsea. These apparitions not only bring into the everyday world of street signs and billboards what is usually hidden in exhibition spaces, storage rooms and auction houses, but they also make manifest the ways in which people see and crave art and other objects of desire."
UFOs hovering over Chelsea? We're in.