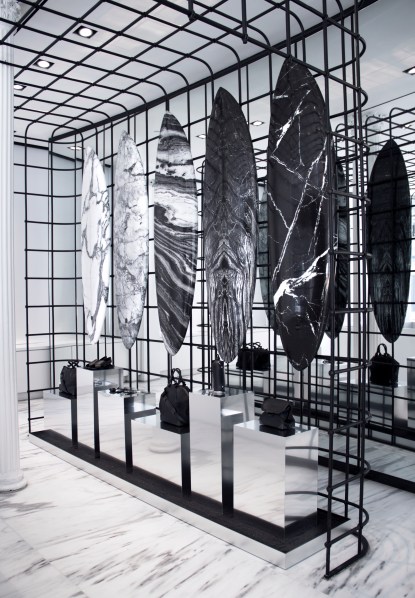 Escape the office and spend the last weeks of summer on the beach! And who better to join you than the newest darling of the design world, Alexander Wang? To add to his budding collection of coveted non-apparel "objects" – which also includes ashtrays, beach balls, even bike locks – he's added a set surfboards that are undeniably Alex.
The five marble print surfboards were created with Hayden Shapes, the Australian surfboard experts and at first glance appear to be impossibly heavy. That's not the case .
"The variations of marble sourced by Wang were printed onto a custom designed, light-weight silk fabric that I had created specifically so that each board maintained a certain weight for performance," Hayden Shapes founder Hayden Cox told The New York Observer.  "The epoxy resins I used contained brightening properties to enhance the detail of the marble and add a unique flex. The sanding process took approximately 7 hrs per surfboard in order to achieve the mirror/gloss finish. These boards were some of the most difficult I have built thus far, but creatively I'd say its been one of my favourite projects."
The Hayden Shapes for Alexander Wang surfboards are currently on display amongst other Wang wares at the designers SoHo flagship store for the rest of the summer, and available for purchase online at
HaydenShapes.com
.
————-
RETAIL PRICE: $1,250