It is a commonplace of New York City real estate that brokers and developers often label less desirable neighborhoods to cash in on proximity to more established bastions. Thus "Nolita" and "NoMad," the too-liberal applications in listings of "East Williamsburg" and "South Slope." More unusual are instances of marketers dispensing with perfectly good, geographically appropriate brand names in favor of sobriquets less well known.
And so the case of Stuyvesant Square represents something of an enigma. Organized around Stuyvesant Square Park and bounded, roughly, by 14th and 18th Streets and First and Third Avenues, it would seem to fit into the southeastern corner of the Gramercy Park neighborhood, which is generally considered to run from 14th to 23rd Streets between First and Lexington Avenues—and which ranks with Manhattan's most fashionable precincts.
Few would object to the neighborhood adopting Gramercy's banner; it would seem an entirely kosher and, for salespeople, productive use of the name. But Stuyvesant Square is, by some reckonings, Gramercy with an asterisk—or not at all.
"We sometimes call it Gramercy on a technicality," said Christian Emanuel, an agent at the Next Step Realty. "What I think about when I think about Stuyvesant Square is Stuyvesant Town," he said, referring to the sprawling, decidedly unstylish private housing complex on the eastern side of First Avenue. Although Stuy Town, as it's known, isn't part of Stuyvesant Square, their shared first name tends to breed confusion.
Stuyvesant Square hosts a range of mostly well-kept mid-sized apartment buildings, walk-ups and townhouses. It stands close by the 14th Street transportation hub and within walking distance of downtown Manhattan's most modish enclaves. But the neighborhood can make a hodgepodge impression. "It doesn't really give off a Gramercy vibe," said Mr. Emanuel.
East of Second Avenue, the imposing forms of the Beth Israel Medical Center and New York University's Hospital for Joint Diseases blot out the sky, casting residential buildings in shade. Schools, with attached expanses of playground and blacktop, occupy considerable territory. Working in concert with medical facilities, they disrupt the neighborhood's flow. Stuyvesant Square Park is itself bisected by Second Avenue and its traffic. Ambulances sound steady sirens.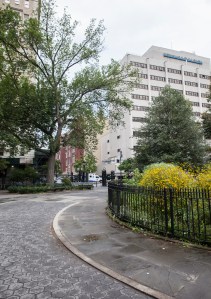 During a recent tour of Rutherford Place, a luxury condo conversion with an enviable stock of duplexes and triplexes at 305 Second Avenue, where three-bedrooms list for just shy of $3 million, Ariana Meyerson, an agent at Cantor Pecorella—which is handling the building's marketing—declined to define its location.
"We usually tell [buyers] that it's adjacent to a lot of different things," she said. "We're finding that many people are not as neighborhood-focused anymore."
Rutherford Place's website features a photo of a popular restaurant within sight of the condo, but also images of the Flatiron building, Madison Square Park and a pair of restaurants on Bowery. In perusing them, the lines between "somewhere," "nowhere" and "everywhere" grow indistinct.
Josh Rubin, a Douglass Elliman broker who is also active in the Gramercy area, disagreed with Ms. Meyerson's assessment. "Third Avenue is a significant dividing line," he said. "New York City is a very block-by-block town. For those seeking value, the buildings east of Third can offer a great opportunity."
According to an analysis by CityRealty, Stuyvesant Square condos provide, on average, only a slight per-square-foot discount. In 2013, Gramercy as a whole averaged $1,684 per-square-foot compared to Stuyvesant Square's $1,452. Average co-op prices show even less range.
It's true, though, that the area has a relatively humble aura—and that it lacks, by about a half mile, Gramercy Park, with its attendant views and corral of prohibitive apartment buildings. A two-bedroom currently available at the Zeckendorf's 18 Gramercy Park, for example, will run you $9.8 million—and you'll have to get closer to $40 million for the double floor-through penthouse. Sales over the last six months at 50 Gramercy Park North have averaged nearly $3,000 per square foot, according to Streeteasy.
Like Gramercy Park, Stuyvesant Square Park has handsome wrought-iron fencing, but one doesn't need a key to enjoy it.
Named for Peter Stuyvesant, the last director general of the Dutch colony of New Netherland, Stuyvesant Square Park, which stretches from 15th to 17th Street, once comprised part of a 120-acre farm and was sold to the city by Stuyvesant's great grandson in 1836 for $5. The park, together with an irregular collar of surrounding blocks, became a historic district in 1975.
Having long ago shed a reputation as a nexus for drug dealers and cruising men, Stuyvesant Square Park offers lush and shady respite from the bustle of downtown Manhattan. Sturdy, if aged, painted wooden benches describe its perimeters and looping pedestrian paths are paved in dark stone. Doctors, nurses and patients from the nearby hospitals can often be seen strolling among beds contained by elegant iron fences and planted densely with sunflower, daffodil and hibiscus. Fountains trickle and office workers take lunch beneath tall trees. A sizable dog run in the park's eastern portion emits only a mild odor.
Tom Postilio and Mickey Conlon, brokers at CORE who currently have listed for $5.395 million a three-bedroom penthouse at 233 East 17th Street—a convent turned luxury condo building known as the Landmark 17—told us that they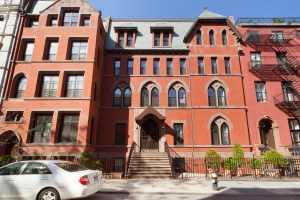 descibe the neighborhood as "Gramercy Park on Stuyvesant Square." The formulation has a regal sound, which nonetheless begets occsional mix-ups. Mistaking the park he'd seen near the Landmark 17 for Gramercy, a potential buyer recently asked whether the unit came with a key.
Others see Stuyvesant Square Park's accessibility—and comparatively low profile—as a virtue. "I had someone who currently lives on Gramercy Park looking at [the Landmark 17 penthouse]," Mr. Conlon said. "He described the possibility of having an outdoor dinner in the park. There are many more rules at Gramercy. There's a different vitality to this neighborhood. It's more relaxed and it's still very private because not a lot of people know it's there."
Ivana Tagliamonte, a real estate broker with Halstead Property, has owned a condo with her husband, a lighting designer, in the Rutherford Place building since 2008, when they moved from an apartment nearer to the heart of Gramercy, at 23rd Street and 2nd Avenue. (Ms. Tagliamonte also currently has a listing in her building, for a one-bedroom asking $1.325 million.)
Despite the short distance of their move, Ms. Tagliamonte and her husband, who have two young children, found a dramatic—and welcome—change in quality of life. "We didn't anticipate how much we would use the park, how much we would enjoy the park," she said.
Strong schools—including PS 40 and Friends Seminary, a private institution dating to 1786 that overlooks Stuyvesant Square Park and teaches kindergarten through 12th grade—create common ground among neighbors who gather in the park, which sees few visitors from outside the immediate vicinity.
"There's something about being in that park—people are very chatty," said Ms. Tagliamonte. "Everyone wants to know what building you're in."
Veronica Maginnis, an attorney who works in business development, resides with her husband, also a lawyer, and two children at 17th Street and Third Avenue, in a co-op they purchased a few years ago.
She has lived in the neighborhood more or less continually since 2004, and in 2011 took on the role of membership director for the Stuyvesant Square Neighborhood Association, which keeps close tabs on the condition of the park and organizes various health, horticulture and dining-themed activities.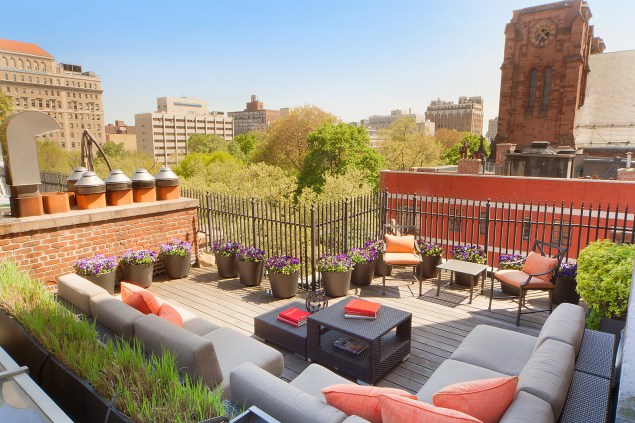 Without a conservancy of the kind active in several of Manhattan's more celebrated parks, or large-scale retailers on its borders, Stuyvesant Square Park relies largely on individual donations for its upkeep.
But this, too, yields a counterintuitive advantage. "At this point," Ms. Maginnis reflected, "I know so many people. I feel like I almost know everyone. They care about what goes on in the park and about what goes on in the neighborhood. I don't think we have any Gramercy envy. I mean, I think Gramercy Park is very nice, but obviously, it's not open to everybody."
Stuyvesant Square's limited space, historic status and mixed uses mean that residential real estate is scarce—and that the district will not be hosting any glass towers. In addition to the area's most up-market multi-families—Landmark 17, Rutherford Place and the Abbey Condominium, in what was once Saint George's church at 205 East 16th Street—there are a number of meticulously preserved and updated townhouses, particularly on East 18th Street, as well as a selection of more modest high-rises and walk-ups. (For a one-bedroom apartment, renters can expect to pay $3,000 and up; two bedrooms start around $4,000 and can climb well north of $5,000 in doorman buildings.)
One side effect of low inventory and infrequent turnover is a familiar, engaged micro-community. "Any time I list something in a building around Stuyvesant Square, I immediately send out a notification to people who live within the building," Ms. Tagliamonte, the Halstead broker, said. "If people can help it, they do try to stay. There are families I know that, over 10 or 15 years, have moved around just within these few blocks."