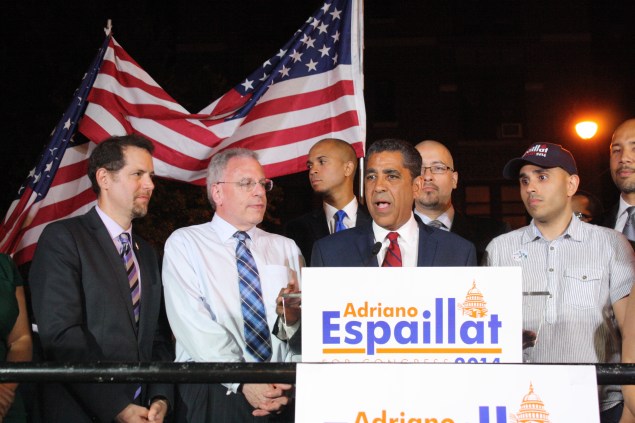 Gov. Andrew Cuomo today endorsed State Senator Adriano Espaillat for re-election in his primary battle against challenger Robert Jackson, a former City Councilman.
Mr. Cuomo cited Mr. Espaillat's work on affordable housing as the reason for supporting him for a third term representing upper Manhattan and parts of the west side in the senate.
"I am proud to endorse Senator Adriano Espaillat for re-election," Mr. Cuomo said in a statement. "Senator Espaillat has been a leader on housing and tenant issues and a fierce advocate for his constituents. I hope the voters of the 31st Senate District will join me in supporting Adriano, so we can continue to work together to protect affordable housing for all New Yorkers."
Mr. Espaillat said he looked forward to working with Mr. Cuomo on renter concerns in his next term.
"Over two million New Yorkers are depending on us to renew and strengthen the rent laws next year, and I am thankful for the Governor's support," the Mr. Espaillat said.
The endorsement in the senate contest comes just months after Mr. Cuomo backed Congressman Charlie Rangel over Mr. Espaillat in the June primary for the seat Mr. Rangel has held since 1971. The victorious Mr. Rangel has endorsed Mr. Jackson, a longtime ally, to replace his former rival.
Mr. Jackson has been an outspoken critic of the governor's support for charter schools and failure to pass public financing of elections. The pol also told the Observer last month that he had signed a nominating petition for Mr. Cuomo's long-shot primary rival Zephyr Teachout and called for the governor to debate the Fordham professor, though he stopped short of making an endorsement in the race.
"I support her right to challenge. If anyone truly believes in democracy, she should be allowed to run. I want to see a debate, I want to see the governor debate her," Mr. Jackson told the Observer. "We've been jammed by the governor on education, and he has jammed us on campaign finance reform."