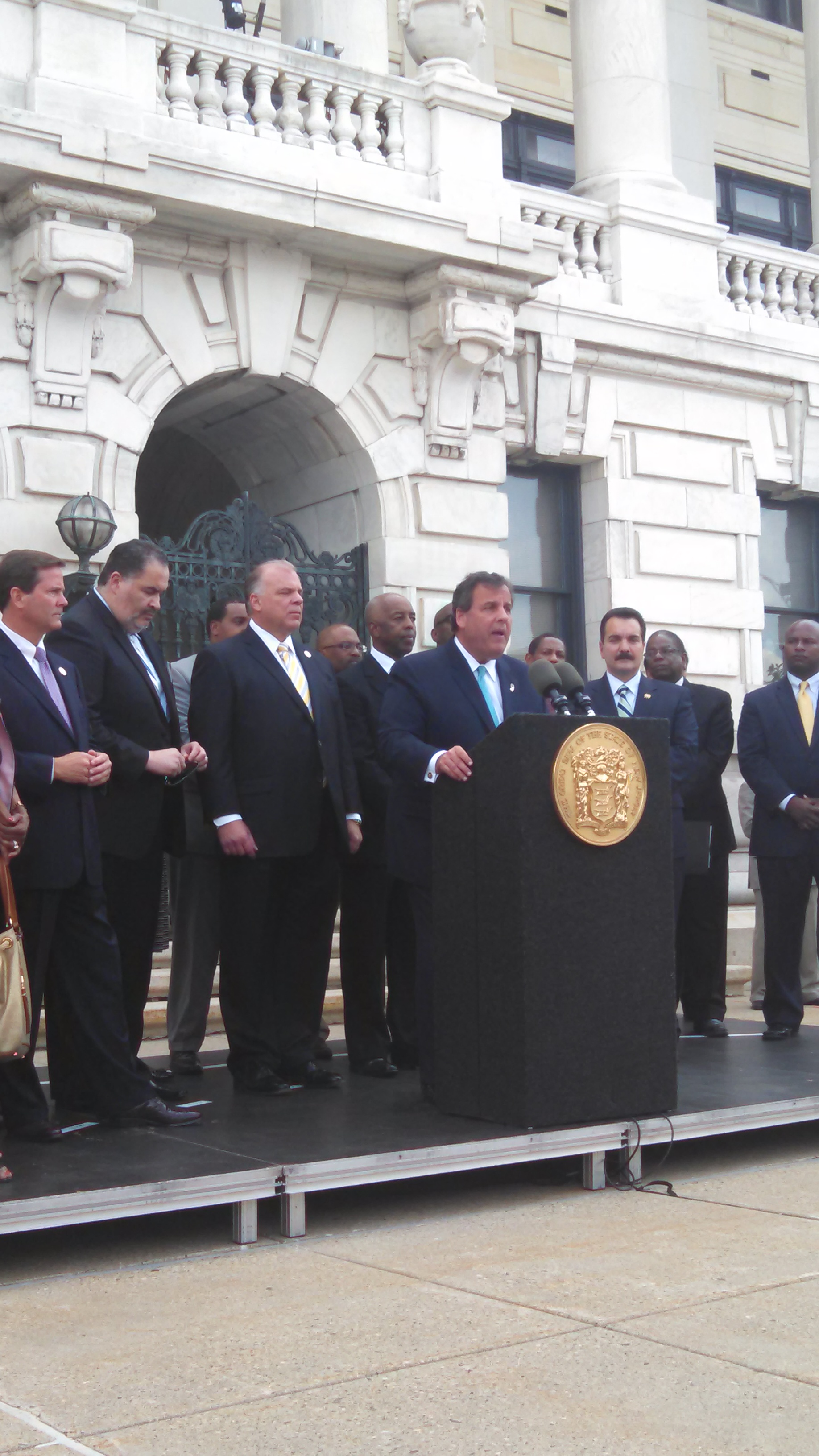 TRENTON – In the midst of signing a historic bail reform package he and other lawmakers hope will help bring about a fairer criminal justice system in the state, Gov. Chris Christie stopped to compare New Jersey politics with those in Washington D.C. — and concluded the former is demonstrably more functional than the latter.
The governor, flanked by legislative leadership from both houses and representatives from advocacy groups like the ACLU and NAACP, did not hesitate in reaching across the aisle to thank Democratic lawmakers who helped champion the bills, which included a constitutional amendment to allow judges to deny bail to defendants they consider dangerous, and a companion bill that establishes bail alternatives for individuals charged with nonviolent offenses. And it's that kind of pragmatic bipartisanship, he said, that makes the Garden State unique.
"That's what people want, and it's what they expect, and it's what they deserve from those of us they trust with public office," Christie began. "And the fact is that that point is lost on too many people in elected office today. I've said this before and it's never been truer than it is right now, when you look at the dysfunctional mess that Washington D.C. has become. There are two types of people who get into public life — those who want to do something and those who want to be something. D.C. politicians spend weeks posturing and bickering while the important issues facing our country continue to fester, only to leave for summer recess and their campaign cycle having done nothing for their constituents. And this is the fault of both parties.
"Meanwhile, here in New Jersey continue to show that you can do things differently. Five years later, we're still putting up with each other, and we're still able to come together and do our jobs when we need to," he added.
It was a series of comments that caught the attention anyone present who believes the two-term Republican might be gearing up for a 2016 presidential run — and there is certainly mounting evidence to believe so. Christie's visit today comes on the heels of a multi-week campaign streak as head of the Republican Governor's Association, where he visited primary battleground states like Iowa and New Hampshire. Recent presidential polls also place him among a handful of Republican frontrunners — such as Kentucky Senator Rand Paul — rumored with planning a primary run.
And one might add today's bail reform package to the list, especially in light of the pounding he's taken in recent weeks on the issue of the state's ailing public pension and benefit system. In a possible effort to play up the former and play down the latter, Christie spent most of his time today remarking at the bipartisan nature of the bail reform legislation.
"This is one of those times where we get to see the real life implications of what gets done or what doesn't get done in our political system," Christie said. "We're sent here to be leaders. We see how this broken system has affected them, and we've come together to fix it."