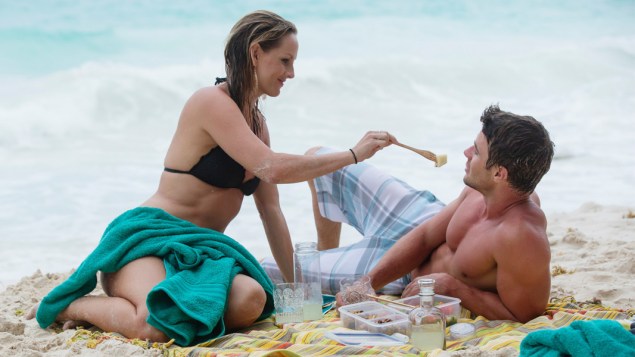 Bachelor in Paradise is our reward for slogging through weeks of Bachelorette Andi's nonsense. Join us, as contestants from Bachelor and Bachelorette seasons past start being polite and start getting real (drunk and crazy).

A rose to Chris Harrison for letting ABC film what is clearly the vacation of his life. I would give anything to be a fly on the wall when Harrison rolled into Neiman Marcus in Beverly Hills and demanded 20 custom leisure suits. You can see his chest hair when he's greeting everyone! Also, his disdain for the contestants (in particular for the ladies who can't figure out how to remove their sky-high heels before walking down a stone staircase onto the sand) is palpable, and Over It Harrison is the best Harrison.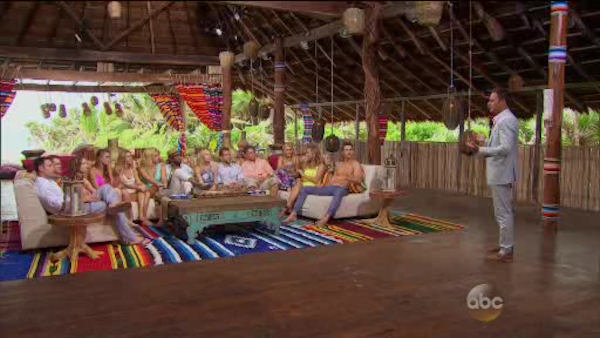 A rose goes to Marquel for living up to our expectations about what he would bring to the table, outfit-wise. While the other dudes boringly opted for variations on the same light pants/light Oxford shirt combo, Marquel showed up in shorts, a printed tank top, an open collared shirt, a fedora and a necklace. Bravissimo! Also, it was adorable to see how excited he was to be reunited with Marcus and Dylan. You guys are cute.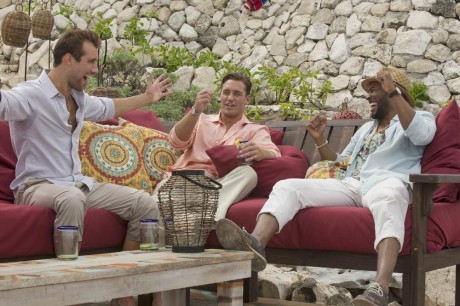 A rose to Clare for setting her sights on Old Man Graham because of, rather than despite, his age. "My first impression of Graham is that he's older," Clare says earnestly to the camera, which she thinks connotes "maturity." While it's unclear how that perceived maturity squares away with deciding to appear on Bachelor In Paradise, Graham does have a sort of senior citizen-y, everyone's dad, "seen it all before" kind of vibe. And truly, he has—he's been on The Bachelorette AND Bachelor Pad! He's a man of the world. In keeping with his dad-ly image, I hope that at some point he is forced to put someone in Time Out.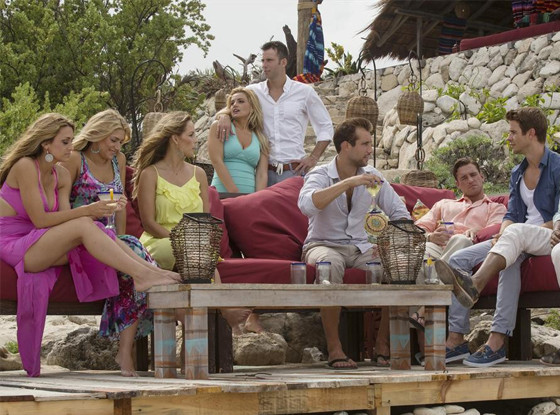 That someone will probably be AshLee Frazier, who shows up in Paradise with an expansive collection of matching crop top/miniskirt ensembles, spidery false lashes and a big 'ol unrequited crush on Mr. Graham. She has decided, unilaterally, that they're meant to be together, while Graham, clearly viewing this as an opportunity to sow some wild oats before collecting his first Social Security check, is polite but terrified when she makes her intentions known. Poor AshLee seems to think that they are already in a committed relationship. Someone needs to remind her that the purpose of this show is to facilitate as many drunk orgies in the ocean as possible before everyone gets kicked out of the country. I think that someone ought to be Harrison.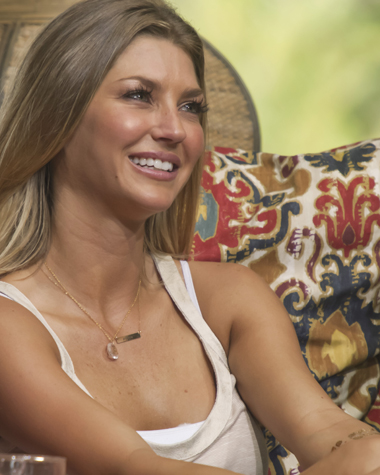 A rose each to Marcus and Clare for creepily narrating Dylan and Elise's first kiss, which happened while they were being buffeted by rather strong-looking waves and holding stemware. What could go wrong? When Dylan lost his footing and plunged under water I legitimately expected him to surface bleeding from both eyes. Clare and Marcus seemed to think this was adorable, though I suppose we shouldn't be surprised that Clare supports the old "making out in the ocean maneuver."

Finally, all the roses to Clare and production for engineering a scene that had her ranting to a raccoon about how AshLee made her un-ask Graham out on a date. Yep, Clare let AshLee silently glare her into revoking her invitation to Graham to go crawl all over some ruins, taking Robert Graham instead (so in a sense, she still got to go out with Graham! I'm here all week). Rather than tell AshLee to chill out, Clare rolled over and then went to a secluded spot to rant about it. She was likely talking to a producer or PA, but the geniuses in the editing room made it look like she was pouring her heart out to a confused-looking raccoon. This is my favorite show.

A rose to the Bachelor in Paradise production intern who dutifully released a bucket-full of angry fire ants in the hopes that Robert would be forced to remove his shirt on his date with Clare. It works! Robert looks cute shirtless, if not a bit like a 12-year-old Liam Hemsworth whose growth spurt came earlier than expected. Anyway, following the couple's ant-scapades, the date goes well—they take some selfies on top of the ruins and splash around in the waves a bit, proving Clare clearly isn't scarred from her infamous "night in the ocean" with Juan Pablo.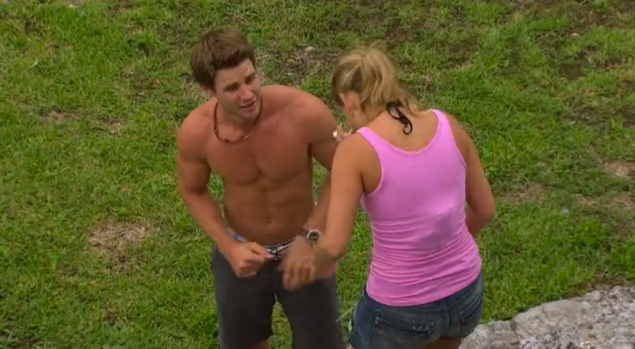 A rose to Sarah, who's easily the shiest person on the show, and yet works up the courage to invite Marcus on her date. They go swimming in some scary-looking stagnant water in an underground cave that probably contains the bodies of Bachelor Pad contestants past. Sarah must be feeling extra brave, because before they jump into the water for a second time, she asks Marcus for a kiss. She's clearly really nervous, and it comes out looking a little like the way you'd kiss your 95-year-old bubbie, but whatever, it's cute because they're in a cave and stuff.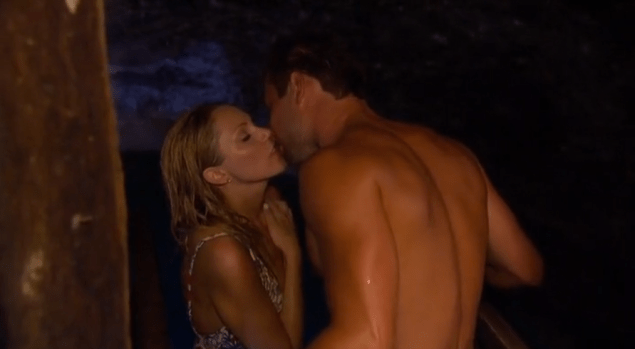 A rose to Michelle Money for showing up in a Nikki Ferrell-inspired number, ready to wreak havoc on these unsuspecting newbz.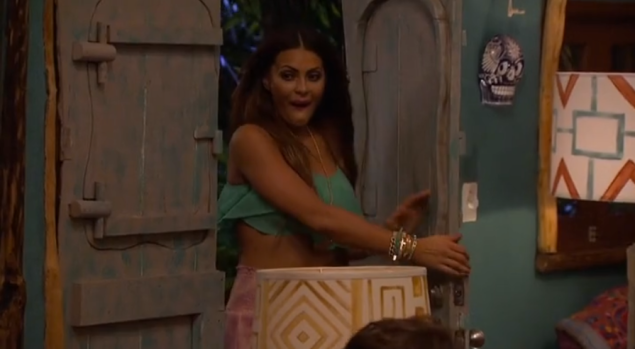 She immediately demands a private chat with fellow Bachelor Pad alum Graham, explaining to viewers that it's "very clear" that she and Graham love each other. Maybe it's actually true, because they do a really complicated-looking secret handshake together. Uh, chill out, Parent Trap.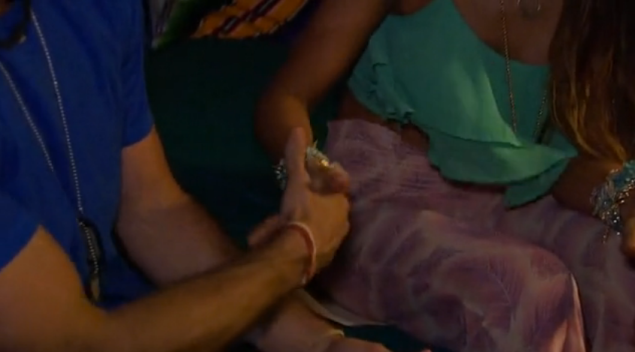 A rose to AshLee, who's meanwhile drowning herself in shitty Bachelor margaritas and half-heartedly asking herself whether Ben's really that unappealing.

A rose to all the viewers who felt simultaneously confused and scared as they found themselves rapidly warming to Michelle Money. "I have not been on a date in—you don't even want to know how long," she tells the camera. "I'm feeling really insecure about my age. I am a 33-year-old single mother. I have a 9-year-old. I have stretch marks." Then she invites Marquel on a fun horseback riding date, where thankfully cookies are neither talked about nor consumed.

No roses to Lacy, who announces she's "80/40" on whether to invite Robert or Marcus on her date. She chooses Robert to have dinner with her at some secluded table, and elects to style her hair like an electrocuted 1950s housewife.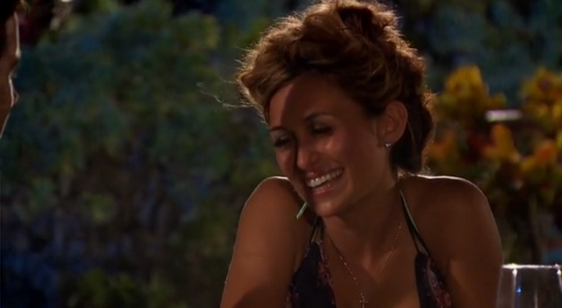 No roses to boring ol' Marcus, who's predictably taking this WAY too seriously. He can't figure out if he should give a rose to "great girl" Sarah or "definitely DTF" Lacy.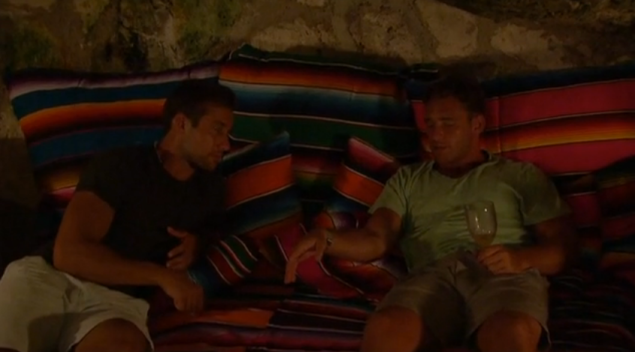 Here's how the rose ceremony played out:
Crazy Michelle K., who most definitely was not single, volunteered herself as tribute to go home.
Marquel gave a rose to Michelle Money.
Graham gave a rose to AshLee, all the while contemplating how he might send her out to sea on a raft and not make it look like his fault.
Dylan gave a rose to Elise.
Marcus gave a rose to Lacy. Sucks to suck, Sarah.
Robert gave a rose to Clare.
Ben gave a rose to Sarah.
Bye, Daniella.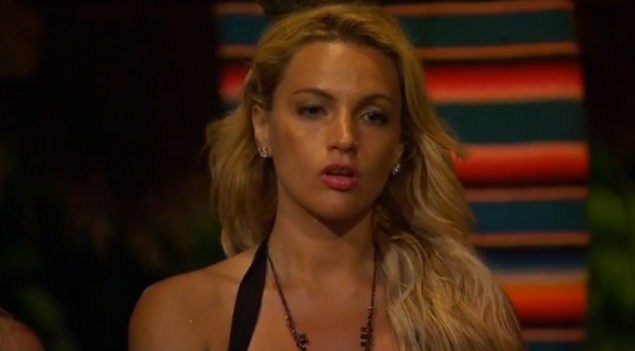 But don't get too sad, because THIS SOMEHOW HAPPENS NEXT WEEK: