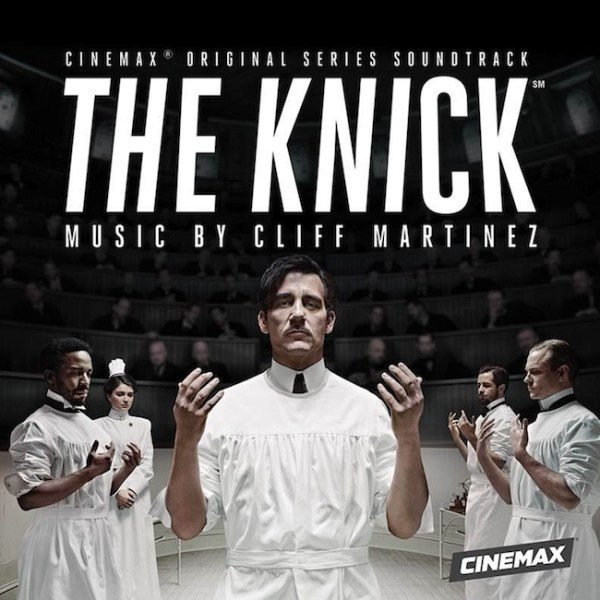 Beakers spilling over with a dying patient's blood; corpse-stealing ambulances; dank, rotting tenements; placenta previa; a breached fetus; horse-drawn carriages trampling down the dirt roads of Mott and Broome Street; medical instruments marrying the Civil War and Saw; Clive Owen begging a waifish West Virginian nurse to inject cocaine into his urethra—considering all the fascinating period details, stomach-turning gore and outright lunacy of Cinemax's The Knick, Cliff Martinez's score might be the last thing you notice.
But just like the poor souls flowing through the doors of its titular turn of the century hospital, the guts below the surface demand, and reward, meticulous examination.
Released Tuesday by soundtrack stalwarts Milan Records, The Knick's score, with its throbbing, haunting collision of early Kosmische, New Age, ambient and modern electronic music, is a subtle, and at times jarring anachronistic filmmaking decision. Luckily, it's a gamble that pays off.
Bronx-native Mr. Martinez isn't a knob-tweaker moonlighting as a composer. Nor is he a composer whose sonic palette is so refined by film work he can't taste the value in chewing on some gristle. A longtime collaborator of series director Steven Soderbergh (Traffic, Side Effects), and former member of bands like Captain Beefheart, The Dickies, Lydia Lunch, and The Red Hot Chili Peppers—with whom he was inducted into the Rock & Roll Hall of Fame—Mr. Martinez's songs inhabit the ether somewhere between those two mindsets, elevating his musings beyond something merely the sum of its experimentations.
Throw-it-at-the-wall-and-see-what-sticks Art-school masturbation, this is not. Mr. Martinez's score beguiles with its suave ability to transcend its witch's brew of avant-garde influences. With surgical precision, he deftly melds the ethos of futurism—personifying the industrial chaos of the encroaching Modern World via bleeps and bloops and metallic percussion—with an oozing, midnight sci-fi vibe that filters those past experimental tropes (everyone from Cluster and Phillip Glass to Brian Eno comes to mind) through a distinctly 2014 prism of modern experimental music to create something fiercely distinct.
In a vacuum, Mr. Martinez's formula resembles spaceship schematics, alien, almost absurd, its processes virtually unintelligible. The score is composed of simple pieces, generally a couple of layered synthesizer tracks and/or delayed guitar samples, but let his world envelop you, experience how his planets orbit one another, the use of nearly-spiritual mind-boring repetition and otherworldly, meditative reverence for silence, and the effect is mesmerizing. Goop-dripping synths sputter, whisper, shine, bubble up pristine, ghastly and ghostly, like smoke rising from a manhole cover, or light pouring through stained glass, evoking some of the best parts of Tim Hecker's most approachable material.
Reflecting the mind-bending individualism of other provocative auteurs like Alejandro Jodorowsky, Stanley Kubrick and Andrei Tarkovsky—which is fitting; Mr. Martinez composed the score to Mr. Soderbergh's remake of the classic post-modern head-trip, Solaris—The Knick's score draws its true strength from first establishing an abyss of stark existential anxiety via silence-as-secret-weapon, a yawning chasm that threatens to swallow every beautiful moment in creeping dread.
Airy and introspective. Holy but sullied. Impersonal and cold, but captivating in its carefully constructed beauty, like contemplating a cathedral composed of 1's and 0's, or the most elegant version of a pipes screensaver ever conceived, it's retro-futurism, a postcard from the future. Mr. Martinez is the monkey with the bone stepping into the shadow of the monolith. Just listen—the future's calling.
[youtube https://www.youtube.com/watch?v=f12M_O5irkg&w=560&h=315]