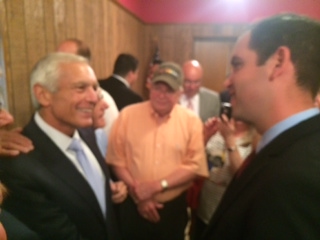 FAIR LAWN – On the day when retired four-star general and former NATO commander Wesley Clark appeared at an American Legion post in Fair Lawn to support Democrat Jim Tedesco in the Bergen County Executive's race, the chief executive of Hudson County's largest city slipped quietly into the crowd.
Jersey City Mayor Steve Fulop came to Bergen, New Jersey's most populous county that serves as a bellwether in statewide elections, on Wednesday to show support for Tedesco's bid to supplant Republican incumbent Kathleen Donovan in November.
"Bergen County and Hudson County are two peas in a pod in many ways," Fulop, a potential 2017 Democratic gubernatorial candidate, told PolitickerNJ. "Several people came up to me today to tell me they were born in Jersey City. People still love Jersey City, and they like the fact that Jersey City is having a revitalization.
"I've already hosted a fundraiser for [Tedesco], and we're going to be involved with raising money closer to the election. Our plan is to be engaged in a significant way," added Fulop, who also attended a Wednesday night fundraiser for Tedesco at the Stony Hill Inn in Hackensack that netted more than $100,000 for Tedesco, according to Tedesco's campaign. "I think that it's really important that there is Democratic leadership in Bergen County."
Fulop's Bergen incursion was also driven by leadership of a different kind: the appearance of Clark, who sought the 2004 Democratic presidential nomination.
"You don't normally interact with a general, but when you do, you understand how special they are to lead the military forces of the United States," said Fulop, who served with the U.S. Marines in Iraq in 2003. "You don't get there accidentally."
Fulop recounted the moment he was about to go into the combat zone as he ruminated on what leadership means.
"The only time our battalion really interacted with a general was the day before we actually crossed into Iraq. I remember it like yesterday," Fulop said. "I remember him telling us about performing the way you want to remember it, when you're old and gray and you reflect back on your life. It really conveyed leadership at that time. It sticks in my head.
"Unfortunately, there are components of politics that people don't like that doesn't exist the same way in the military. The way someone becomes a general at that level is not based on politics. It's based on performance," Fulop added before he went to shake Clark's hand. "That's why generals at that level ooze leadership. And that's why it's special to have somebody of that stature come here."