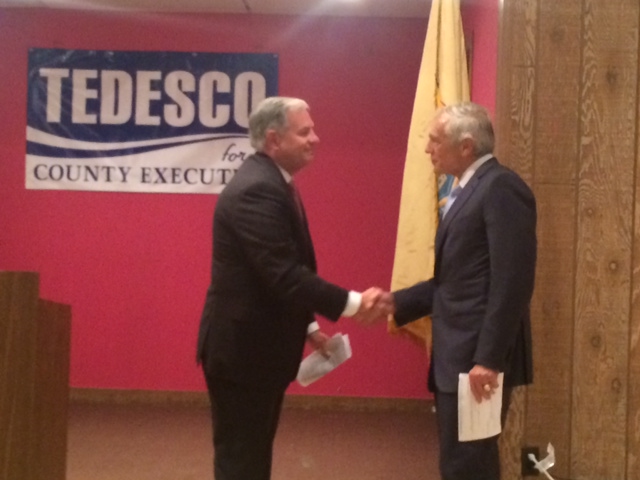 FAIR LAWN – Retired four-star U.S. General Wesley Clark brought some of his political star power to bear for Democrat Bergen County Freeholder Jim Tedesco's bid to oust Republican incumbent Bergen County Executive Kathleen Donovan, telling a Fair Lawn crowd of mostly veterans that Tedesco has got the right stuff to lead New Jersey's most populous county.
"I'm here for Jim Tedesco. Now, as Jim said, he's not a veteran, but of course he's a veteran. Anybody that puts 38 years in public service is a veteran as far as I'm concerned," said Clark to a group of about 75 people at American Legion Post 171 on River Road that included state Sen. Bob Gordon (D-38), Bergen County Clerk John Hogan and Jersey City Mayor Steve Fulop, a U.S. Marine veteran who served in Iraq. "Thirty-eight years a firefighter, mayor [of Paramus], freeholder, and now he wants to be county executive. I don't think you could find anybody with a better record of service, any stronger sense of integrity, or a better set of programs for the people of this community."
After he lauded Clark's service to his country, Tedesco detailed some of the programs he wishes to install in Bergen County if he gets elected in the fall.
"My brother was a demolition expert in the U.S. Army, and when he returned home, he needed the benefits and the services of the V.A. And unfortunately, the V.A. hasn't helped him to the level that is needed, and that is the case with many. We need to change that," Tedesco said. "While Bergen County and local governments have been more proactive than most, I believe we have a moral obligation to do more.
"When the contract for Bergen Regional [Medical Center in Paramus] expires, part of our plan for the future of the hospital includes veterans' care," Tedesco added. "The county will work with our representatives in Washington, D.C. to petition the V.A. to provide care at that facility. Right now, there is only one V.A. outpatient clinic in Bergen County. That is insufficient to serve the thousands of veterans we have here."
Clark, a Democrat who tried unsuccessfully to gain his party's Presidential nomination in 2004, made a nod to Bergen's bellwether nature and close-run partisan elections when he asked the crowd to back Tedesco.
"There's a long tradition in this country, going back at least to Vietnam, to veterans voting on one side of the ticket," Clark said. "What makes a difference in this country is people who take care of people. I think there are many Democrats who do that, if not more, than on the other side of the aisle. This is about leadership for Bergen County. It's not a partisan issue. It's about the man."