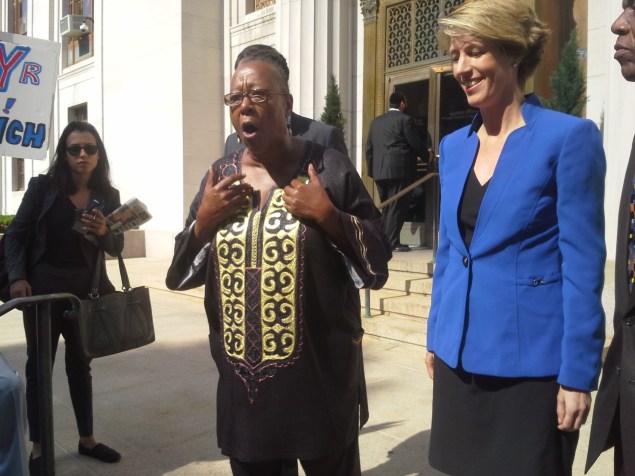 Family members disagree.
That was the message Bertha Lewis, a liberal firebrand and long-time Mayor Bill de Blasio ally, had for the press today long after the mayor made it clear he would be endorsing Gov. Andrew Cuomo's re-election bid. Ms. Lewis is backing one of Mr. Cuomo's Democratic primary challengers, Zephyr Teachout, and wishes Mr. de Blasio had done the same.
"Sometimes family disagrees. And I said to him, 'I just disagree with you. You're the mayor. I understand your position, I understand that we have an incumbent governor, I understand that.' But we just fundamentally disagree," Ms. Lewis declared on the steps of a Brooklyn courthouse this morning. "Because at some point you have to stand on principle."
"I not only disagree with Mayor de Blasio who's still a member of my family, I also disagree with some other major politicians as well as some other unions," she continued. "At some point, we're either gonna stand on integrity or stand for what's right and you know what, whether you support Zephyr or Tim or not, there needs to be a public debate … you don't just, sort of, crown someone. We don't have a king of New York. We have a governor of New York."
Ms. Lewis, a founding member of the Working Families Party and the president of the Black Institute, broke with Mr. de Blasio and the WFP after they decided to endorse Mr. Cuomo over Ms. Teachout, a law professor, in May. Ms. Teachout continued her bid after losing the WFP endorsement and is now fighting Mr. Cuomo in court: Mr. Cuomo's lawyers challenged her residency and lost an initial decision, leading them to appeal the decision in Brooklyn Supreme Court.
Ms. Teachout, standing with her running mate and lieutenant governor candidate Tim Wu, gloated today that Mr. Cuomo's legal challenge was only bringing more attention to her long-shot campaign and helping her raise funds. She has few supporters, but Ms. Lewis-with her deep ties to the city's liberal political groups–may be an ally that can help her make a dent in Mr. Cuomo's likely victory in September.
"You're not gonna take my vote for granted and especially votes of black and brown people in this city and in this state," Ms. Lewis said.
Mr. de Blasio did not immediately return a request for comment