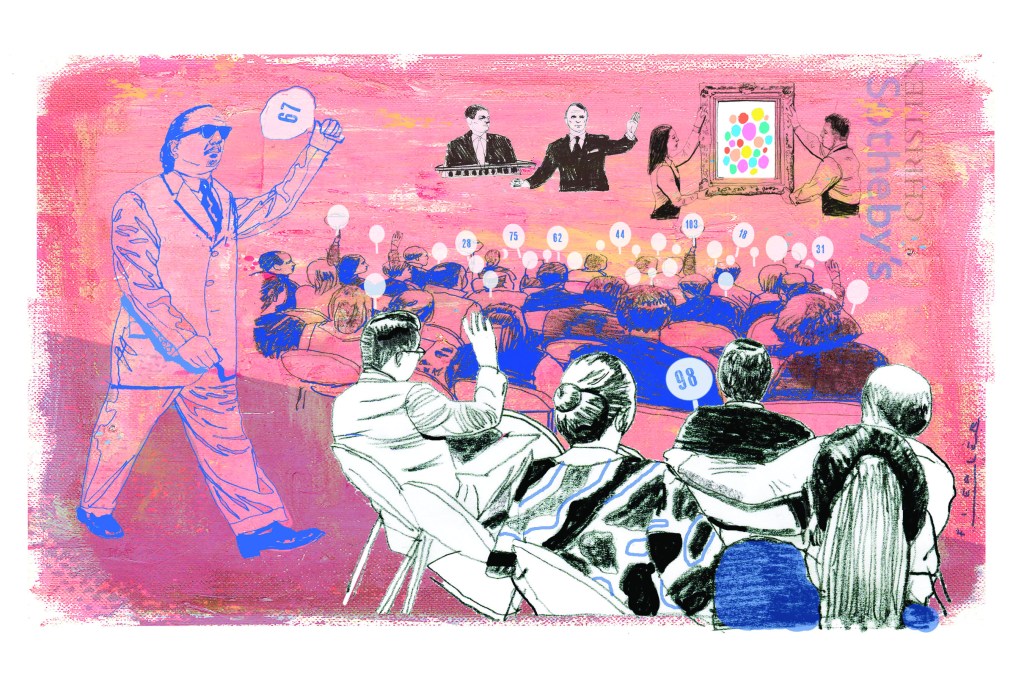 Last May, at Christie's New York, the painting Park Avenue Façade by Abstract Expressionist Michael Goldberg soared to $461,000, well above the $100,000 to $150,000 estimate set by the auction house. The new artist's record was set by Michael Rosenfeld, the Manhattan gallery owner who represents Goldberg's estate. The art dealer said  he regularly buys works by artists in his gallery—both living artists and those whose estates he represents—at auction. In the case of Park Avenue Façade, he explained, "The $100,000 low estimate was ridiculously low and I know I will eventually sell it for $1 million."
When artists agree to be represented by a gallery, they usually work out with the gallery owner such matters as the amount of the dealer's commission; how often their work will be exhibited in solo or group shows; the price of their artworks; that sort of thing. Another expectation, usually not as explicitly stated but increasingly crucial, is that the dealer will attempt to control the market for the artist's work even after it has been sold. Some dealers go so far as to bid up, and even buy, pieces when artworks are consigned to auction. The practice is legal.
"I have bid up prices to appropriate levels, when auction houses have estimated too low works by artists whom I represent," said Manhattan gallery owner Renato Danese. "I want to protect the work from going below the low estimate or not selling at all, because that puts a cloud over the work and over the artist." Disappointing results at auction can potentially come back to haunt works sold at the gallery. "I don't like to spend fruitless hours explaining why a good piece went for a quarter of the price I charge at the gallery." He added that "artists expect me to protect their market and their reputations."
Artists often look to their dealers to do something when their work comes onto the secondary market. "We are in conversation with our living artists about work that arrives at auction, and we attempt first to place works in collections that are not speculative," said John Cheim, partner in the Manhattan contemporary art gallery Cheim & Read. Artist Kiki Smith, who is represented by New York's Pace Gallery, said that she expects her dealer "to care about my work and the market for it, and do whatever they need to do to make sure nothing goes wrong."
Not every artist feels that way—sculptor Vito Acconci claimed that he never thinks about the relationship between his primary and secondary markets, and painter Bill Jensen "told my dealer not to be involved with the secondary market. I will not manipulate the market"—but many do.
Public auctions are high-stakes gambles for artists and their careers, informing the world that someone wants to get rid of artworks they own, and strong interest in the work up for sale cannot be guaranteed. As a result, Mr. Danese tries to convince owners of his artists' works to resell works through his gallery, where he has a longer period of time to find buyers and a lack of collector interest can be hidden.
Some dealers go further, requiring buyers of certain artists' works on the primary market to sign an agreement assuring that the works will be resold exclusively through them or donated to a museum. "I have used these clauses on every invoice since I opened the gallery," gallery owner Andrea Rosen said.
 Still, the front seats in the sales rooms at these auctions are filled with dealers, according to a spokesman for Sotheby's: "You'll see them in the room, up front in the same places all the time." These days, escalating prices have put more pressure on dealers to maintain upward momentum of their artists' prices, and with more bidders acting through agents or bidding on the phone, auctions are less transparent than ever.
Dealers who are bidding may be acting as agents for other collectors, who wish to remain anonymous, or they might be building up gallery inventory. "We take an active interest in the secondary market, especially the auctions," said Louis Newman, director of New York's David Findlay Jr. Gallery. "When an important work by one of our artists comes on the market we often make a bid for it. Occasionally we will overpay for a rare work and put it aside for a period of time. Often hindsight proves that the purchase was, in fact, a good investment for us."
The London art dealer Jay Jopling paid £2,546,500 ($4,365,678) at a contemporary art sale at Christie's London in July for My Bed (1998) by Tracey Emin, whom he represents. That price was five times the previous auction record for the artist. Mr. Jopling later revealed that he was bidding on behalf of Count Christian Duerckheim, a Cologne-based collector, who promptly loaned the work for 10 years to London's Tate Modern museum.
Auction houses regularly contact, and send sales catalogues to the known collectors of the artists in their sales, and they also "notify artists' dealers when we are offering works by the artists they represent," according to a spokeswoman for Bonhams auction house. By the time of the sale, the auction houses have some idea of the level of interest in various lots, and they "may tell the dealer that there isn't so much presale interest in an artist's work, so you might want to come in as a bidder," said Pilar Ordovas, former European head of Christie's contemporary art department and now a private dealer in London. "There are many reasons that dealers bid for works in sales, and one of them is to protect the market for the artists they represent."
Mr. Rosenfeld stated that the gallery buying works by its artists at auction "gives clients confidence that we believe in the artist. It's very reassuring to them," and it also is keeping a commitment that is made when the gallery is negotiating to represent the artist. "We tell them, 'We will protect your market.' "