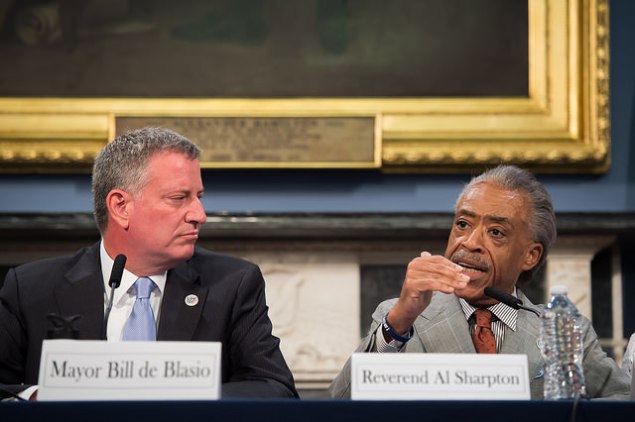 When it comes to police training, Mayor Bill de Blasio and Rev. Al Sharpton are on very different pages.
The mayor broke with the reverend today over the value of retraining officers to address tension between police and minority communities, arguing it's essential to the solution of easing that tension. Mr. Sharpton, at a round table hosted by the mayor yesterday, was deeply skeptical of that plan.
"On the question of the criticism, I have to say I disagree with Rev. Sharpton … the training is quintessential to change. Now I understand that people hear the word training, they may think it's superficial or temporary," Mr. de Blasio declared at an unrelated press conference in Brooklyn.
"Bill Bratton doesn't do things in a small way or inconsequential way. Bill Bratton is one of the greatest police reformers and architects of effective policing in the history of this country," Mr. de Blasio said, reiterating remarks he made yesterday. "He's saying we're going to systematically retrain the police department to make sure people understand how to best work with communities and to be effective."
Mr. Sharpton ripped into Police Commissioner Bill Bratton's approach to law enforcement yesterday, charging that retraining officers would pale in comparison to putting them on a "perp walk" for breaking police code or the law. His comments came two weeks after Eric Garner, a Staten Island man who is black, died in police custody after he was placed in a chokehold, a prohibited maneuver.
While both Mr. de Blasio and Mr. Bratton have not said race was a factor in Mr. Garner's death–Mr. Bratton denied this was the case–Mr. Sharpton has argued race does matter. Mr. Sharpton, not holding his tongue, also said he could even become the mayor's "worst enemy" if change didn't come to the NYPD soon enough.
But Mr. de Blasio, who is remarkably close to the firebrand reverend, said he welcomed Mr. Sharpton's challenge and the controversial dialogue he brought to City Hall. The mayor also insisted that the relationship between Mr. Sharpton and Mr. Bratton–a police commissioner under Republican Mayor Rudy Giuliani, one of Mr. Sharpton's nemeses–was strong.
"It's a very productive relationship and again, they don't have to agree on everything but you can ask Rev. Sharpton and he'll be one of the people who will tell you from his own experience in Los Angeles that Bill Bratton did something absolutely extraordinary there in repairing substantially the relationship between police and community in a very, very troubled environment," Mr. de Blasio told the Observer, referring to Mr. Bratton's tenure as a police commissioner in Los Angeles.
"One of the people who actually speaks most vehemently about how impressive that achievement is is Al Sharpton," the mayor continued. "So they'll disagree from time to time but they have, I think, a respectful and positive relationship."