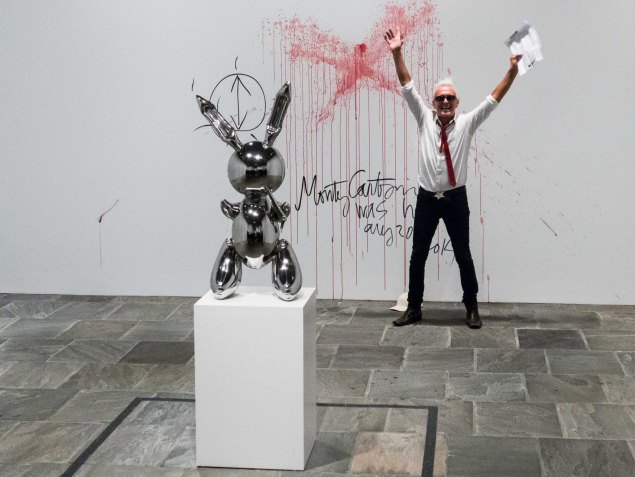 On Wednesday a Canadian performance artist named Istvan Kantor defaced the third floor of a highly lauded Whitney exhibit for celebrated pop artist Jeff Koons. Mr. Kantor registered his distaste by painting a large "X" with a red liquid substance on the blank wall across from an iconic Koons piece, Rabbit (1986), according to–among numerous reports–the New York Post. He then proceeded to sign his "work" with a pseudonym before being dragged off by authorities for a psych evaluation–because duh–but was released shortly after without being charged.
This isn't the first time Mr. Kantor has attempted to deface a Koons. In 2004 he tried to squeeze a blood capsule on Koons' Michael Jackson and Bubbles sculpture at the Hamburger Bahnhof gallery but was stopped by other patrons. In 2005 he told the Japan Times that his "blood campaign" was an ongoing art project.
But why always Koons? What does he have against balloon sculptures? They are delightful, we say. Maybe it's something like the anti-fur advocates and their red paint thing. "Latex is murder"? A moment of silence for all balloon animals exploited at the expense of Big Art.