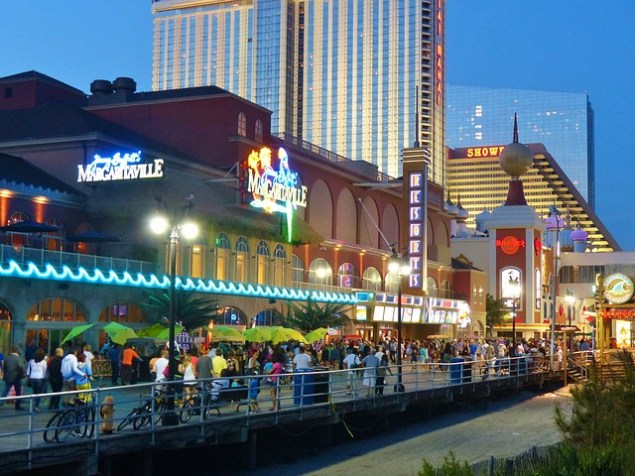 In Tuesday's New York Times, Jim Dwyer devoted his "About New York" column to festivities held Monday evening in Coney Island, where once a week in July and August, Flicks on the Beach project on a large, inflated screen for the viewing pleasure of moviegoers spread out on the sand. The program has been live since 2010. But this year, Mr. Dwyer writes, "Coney Island feels transformed."
Boardwalk planks splintered by the hurricane have been carted off and water damage repaired. In the photos accompanying the column, rides new and refurbished glow in Monday's soft orange twilight, as visitors unfurl blankets by the shore. When the sun has set, the Parachute Jump, complete with $5 million city-funded renovation, makes a giant fluorescent popsicle in the dark.
"What has risen" from Sandy's wreckage, Mr. Dwyer writes, "comes with a fresh tone." And Monday's audience, which turned out—in the thousands by Mr. Dwyer's reckoning—to see Grease, seemed to agree. "They built up Coney Island beautiful," one woman said. "Disco music by the Parachute. There are places where the water comes shooting out of the ground. On the pier, we walked all the way out; you would think you're on a cruise ship."
Dr. Khorsheda Ali, a native of Bangladesh who arrived in New York in 1992 and relocated upstate 11 years ago said, "Coney Island was nothing like this when we left. It is so full of life. There is music everywhere."
Only an occasional hint of the amusement district's seedy past—and the troubled present of residential Coney Island, home to some 50,000—surfaced in the Times' celebratory account. In one photo, a police cruiser sits parked on the boardwalk, which has enjoyed zealous security and sanitation details which are much less in evidence in the community at large. Of the neighborhood's renewal, a police lieutenant told Mr. Dwyer, "The dive bars are now a nice place to get a beer. Families come to the movies. It's a little paradise for me. Better than bullets."
There are, however, still plenty of bullets in Coney Island, even if none harried those that visited this week for Flicks on the Beach. About a sixth of Coney Islanders live in run down public housing facilities, and the neighborhood consistently ranks among the city's most violent and sparsely employed. Tourists debarking at the Stillwell Avenue train station can easily head quickly and immediately to the beach without more than a glimpse of the places where locals make their homes. And as Mr. Dwyer notes, those who have been going there for years will find things on and around the boardwalk considerably "less jagged" than in the past.
Still, we should take care not to confuse "Coney Island," a peninsula four miles long, with an amusement district of just 12 acres. It is true that visitorship has increased every year since the storm, and that the boardwalk, during summer months, has grown more vibrant, colorful and economically productive. But one effect of articles like Mr. Dwyer's, which basks in the sort of nostalgia-tinged optimism endemic to mild August nights, is to prematurely imply complete victory.
The EDC's redevelopment plan for the neighborhood is five years into a 30 year schedule and Coney Island residents have yet to see meaningful benefits. When we spoke in June, Nate Bliss, the EDC official heading the initiative, acknowledged that for that to happen, under the city's plan, Coney Island would need to become a year-round destination—a problem for which he struggled to identify a clear solution.
The example of Atlantic City—which shares a non-insignificant chunk of history with Coney Island, including a legacy of urban renewal—and which has lately made national headlines as its casinos close in the face of once-verboten regional competition, is to some extent instructive here. In an interview last week with Bloomberg TV, Donald Trump reflected that the town began going downhill around the time of his withdrawal, about eight years ago. (Casino profits in Atlantic City peaked in 2006, and though a number of casinos still bear his name, Mr. Trump no longer has any actual affiliation with them.) "Atlantic City—it's a very sad situation," Mr. Trump said. "Just too much competition."
The thing of it is, though, that despite extracting enormous profits from their holdings there—despite the light shows and steakhouses they established—casino developers did little to assuage the unemployment, deplorable public education system, drug trade, violence or human trafficking that have long plagued Atlantic City residents. (A stipulation of the state's gambling code that was supposed to redirect a portion of casino profits to community building projects mostly failed to do so, allowing the funds to be reinvested in casinos and casino-bolstering initiatives.)
The late 1970s legalization of gambling in New Jersey, touted as a means of rescuing the city, did no such thing, largely foreclosing the possibility of non-casino-centric development—which might have come in handy right about now. In point of fact, the city has never seen more murders than in 2006, when casinos were most profitable. The situation in Atlantic City is indeed sad, but it is sadness of longstanding, only marginally attributable to elevated competition among East Coast gambling halls.
All of which is to say that a renewed Coney Island boardwalk is no call to declare the neighborhood "transformed." Glitzy attractions can and do profit beside badly-neglected communities without ever offering anything more than the appearance of a helping hand, which can feel crueler than nothing at all, even where good intentions are genuine. (Coney Island, of course, has no casinos, which tote a set of characteristics perhaps uniquely poisonous to economic development. But in the years before casinos in Pennsylvania and New York, even Atlantic City's 12-month gambling audience, for which Coney Island has no analog, proved insufficient to lift residents' proverbial boats.)
More productive than dreamy accounts of idyllic evenings on the beach—reveries that tend to suggest that with boardwalk storm damage repaired, we can all stop worrying about conditions in Coney Island—would be explorations of how the neighborhood might foster long-term, year-round employment opportunities. Coney Island councilman Mark Treyger, for example, has floated the idea that a Kingsboro Community College campus focused on culinary arts might be more helpful to Coney Islanders than the oceanfront condos included in the EDC's redevelopment plan. Community activists lament the absence of job training to prepare locals for positions beyond the entry-level. (Such suggestions suffer from being less glamorous than resurrecting Coney Island's status as an internationally-iconic destination, however unrealistic that might be.)
No one likes a spoilsport, of course. But we would be remiss to break out our home run trot when it's not at all clear, yet, whether the ball is headed for the bleachers.