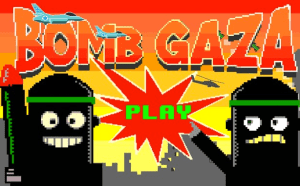 A mobile game that simulates the war in the Gaza Strip was quickly pulled from Google's Play Store yesterday. The game, called "Bomb Gaza," instructed gamers to "drop bombs and avoid killing civilians," however it — obviously — faced a barrage of criticism including one person calling it "absolutely disgusting."
The game lasted in the Play Store for about a week and was downloaded around 1,000 times. The 8-bit game urged gamers to drop missiles from Israeli fighter jets while dodging rockets from so-called Hamas fighters wearing black masks and green bandanas. Once users got wind of the game, it was reported to Google.
"We remove apps from Google Play that violate our policies," a spokesman for Google said, confirming that the game had been removed from the Google Play app store. Google did not specify which policy the game had violated.
"Bomb Gaza" isn't the only controversial game to grace the Play store, as the Telegraph points out. There's another game called "Whack the Hamas," which is self-explanatory, and "Gaza Assault: Code Red." They are still available to download.