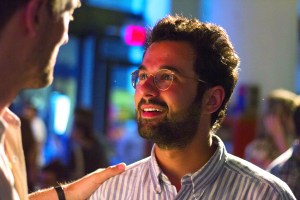 "Hey man! How are you? What's up? Do you want a cigarette?" said the writer David Shapiro (not his real name) outside of his book party at the powerHouse Arena in Dumbo.
He was holding a bag of cigarettes he bought at an Indian reservation. I took one and lit it. David was wearing black shoes, black socks, black shorts and a blue-striped button-down shirt, untucked from his shorts. A lot of the young people that had filled the bookstore waiting to talk to David about his book, You're Not Much Use to Anyone, were dressed similarly. Rex, a product strategist once profiled in this newspaper, wore a shirt that said, "I [heart symbol] irony."
"This is going to be fun," I said.
"This is going to be something," David said, brushing back his hair with his hand and looking somewhat uncomfortable. Then, in a quick motion, he leaned into my ear and whispered, "I know you're writing about this."
(Full disclosure: I met David four years ago, when he was working an office job near City Hall and writing a blog called Pitchfork Reviews Reviews—it dissected the album write-ups on the popular music website Pitchfork—that was rapidly gaining followers on Tumblr, giving him a certain amount of notoriety in the media world. He was not yet going by "David Shapiro"—a name that, if I recall correctly, he first assumed for the caption of a Billy Farrell photo of us at a book party for Palo Alto by James Franco—and the blog was anonymous. This is the time period that he writes about in You're Not Much Use to Anyone, released July 22 by Amazon (AMZN) Publishing's New Harvest imprint. It's a book about a blog about a website published by a website that sells books on the Internet. That fall, in 2010, David would often come with me and my friends Mike and Joe, bloggers for two different prominent magazines, to fancy parties that we were writing about. David would write about them himself, first for his blog, and eventually for other publications such as The Awl, where I once interned. Sometimes I myself factored into David's party reports: "… right now, me and Mike and Nate are drinking white wines at a party in the living room of Julian Schnabel's ex-wife's townhouse on 11th street …" and so forth. In May 2011 I heard from a friend that David had been dumped by his girlfriend and spent a week locked in his apartment writing a novel. "Dude tell me about your book," I messaged him on Gchat one day. "I will in person," he wrote back. There are no more records of us talking on Gchat after that. We fell out of touch for a while. But now we're friends again, and sometimes we play softball together in Central Park.)
David had enlisted Jon Caramanica, the pop music critic for The New York Times, and Sasha Frere-Jones, the pop music critic for The New Yorker, to DJ along with Tao Lin, a writer who had a party for his last book, Taipei, here a year ago.
"This party is definitely better," Mr. Lin said, his voice affect-less. "Much better. Everything's better."
The crowd drank all three cases of wine in 30 minutes. "I have Four Lokos?" David offered, referring to a drink that appears in his book, but has since been banned in the highly alcoholic, highly caffeinated form that appears in his book, but I decided that wasn't a good idea, so my friend Caroline, who writes for the same magazine website as Joe, and I went to the bodega down the street to buy Budweiser tallboys. Caroline is a good friend of Mr. Shapiro's.
"What is the name of the character based on you, again?" I asked her.
"I was cut from the book!" Caroline said.
We went back to powerHouse with the beers and I handed one to Joe and my friends Zara, an entertainment writer, and Beau, a contemporary art curator, all three of whom are pictured with David on the cover of the book.
Eventually, David and Jesse, one half of the band Tanlines, sat down for a discussion with David at the center of the room.
"David and I hadn't met in real life until he asked me to do this," Jesse said. "He seemed nervous about this part of the night—or, rather, the fictional David felt nervous."
The conversation often returned to the differences between the character of David in his book, the character of David who wrote the book under a pseudonym, and the David who currently works in a Midtown law firm everyday and told his parents they can't read his novel.
After the talk, David signed books and then I walked with my friend Dan, an arts writer who was carrying a cane because he hurt his foot, to a Mexican restaurant nearby, but it was packed, so Marisa, a writer who contributes to the Times style section, bought chips and guacamole and we went to a bar down the block. Nearly the entire place was filled with the people from the book party and at one point I found David at the bar. I offered to buy him a shot of tequila, even though he's not a big drinker, and he said yes.
"I'm glad you're writing about this," he said. "It's like the snake biting its tail."
We took the shots of tequila.