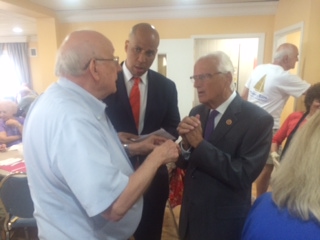 FORT LEE – A convergence of state and local officials outside of a Bergen County senior center is a far cry from the fevered streets of Ferguson, Missouri, as the Saint Louis suburb continues to be roiled by unrest more than a week after an unarmed black teenager was shot to death by a white police officer.
But in conversations with PolitickerNJ on Tuesday at a meet-and-greet event at Fort Lee's Richard A. Nest Adult Activity Center, both U.S. Sen. Cory Booker and U.S. Rep. Bill Pascrell, Jr. (D-9) praised U.S. President Barack Obama's handing of the ongoing crisis, one that has highlighted the lingering fault lines in American race relations.
The investigation of the incident that claimed the life of Michael Brown, 18, has been thoroughly federalized with U.S. Attorney General Eric Holder and the National Guard now trying to seek justice and restore order, respectively.
Obama, America's first black president, spoke out on Monday about how while the rage in Ferguson's streets is understandable, that does not mean that chaos is allowable.
"While I understand the passions and the anger that arise over the death of Michael Brown, giving in to that anger by looting or carrying guns and even attacking the police only serves to raise tensions," Obama told the press at the White House on Monday according to previous reporters. "As Americans, we've got to use this moment to seek out our shared humanity that's been laid bare by this moment."
"I think [Obama] showed a lot of compassion and understanding for a lot of the frustration," Booker, New Jersey's first black U.S. Senator, said. "He also said that we've got to make sure that the facts come out – not only about the incidents around the shooting, but how the police were treating the lawful, law-abiding protesters. We have to tease out the real truth of what happened, and deal with it accordingly."
"The president is trying to get the facts before he concludes anything. That's exactly what any prosecutor or grand jury should do," Pascrell said. "In the meantime, cooler heads must prevail."
Pascrell specifically pointed to Missouri State Highway Patrol Capt. Ron Johnson, who was selected by Missouri Gov. Jay Nixon (D) to coordinate the efforts of law enforcement agencies in Ferguson and who was won praise for reaching out to the aggrieved Ferguson community.
"Thank God for Capt. Johnson. This is what usually saves the day – individuals who no one thought about before who come to the front," Pascrell said. "It's things like that instead of government proclamations or politicians saying this and that. It's a chaotic situation, and you need leadership in order to bring some kind of order to the chaos. It's like the Bible says. Johnson must have said 'Send me, Lord.'"