Master Bedroom at 140 East 63rd. (Photographs by Aaron Adler/for the New York Observer)
Christie Wright
Kids Room at 140 East 63rd. (Photographs by Aaron Adler/for the New York Observer)
Christie Wright
Second Bedroom at 140 East 63rd. (Photographs by Aaron Adler/for the New York Observer)
Christie Wright
Living room at 140 East 63rd. (Photographs by Aaron Adler/for the New York Observer)
Christie Wright
Living room 140 East 63rd. (Photographs by Aaron Adler/for the New York Observer)
Christie Wright
Living room at 140 East 63rd. (Photographs by Aaron Adler/for the New York Observer)
Christie Wright
Dining room at 140 East 63rd. (Photographs by Aaron Adler/for the New York Observer)
Christie Wright
140 East 63rd. (Photographs by Aaron Adler/for the New York Observer)
Christie Wright
Dining room at 140 East 63rd. (Photographs by Aaron Adler/for the New York Observer)
Christie Wright
The Salon in 140 63rd st. (Photographs by Aaron Adler/for the New York Observer)
Christie Wright
The front hallway at 140 East 63rd. (Photographs by Aaron Adler/for the New York Observer)
Christie Wright
A portrait of Veronica Lake, who stayed in the hotel years ago.
Christie Wright
Two features stand out in unit 14B of the building formerly known as the Barbizon Hotel, at 63rd Street and Lexington.
The first is the exquisite light. The modern but classically boned 3BR/3.5BA is surrounded by townhouses, so sight lines aren't obstructed by a brick wall or an awkward view into a neighbor's home.
The second is the ceilings, which clock in at only 8 ½ feet high, by the broker's measure. Proud moldings befitting loftier altitudes conspire to trick the eye along with floor-grazing chaises and tables—the handiwork of a deft stager. All the better to create the illusion of height in a 2,600-square-foot condo that practically weeps for a young family to come in and play after roughly six months on the market.
And why not? Aren't those 12-foot ceilings in vogue today just a bit drafty? The cozy proportions were just fine for the likes of young Katharine Hepburn, Bette Davis and Grace Kelly, all of whom roamed the Barbizon long before their rooms were sliced and diced into condos in 2005.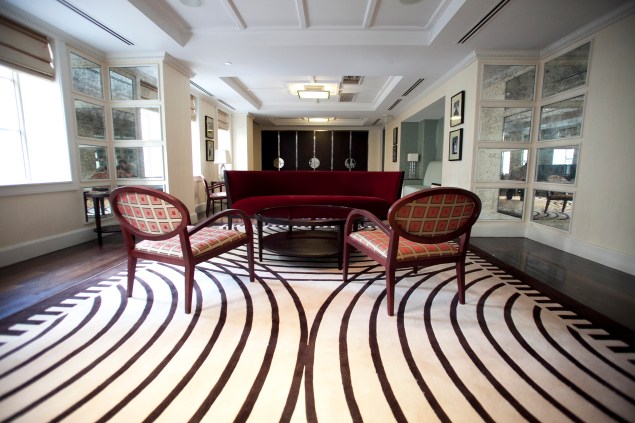 The Barbizon was built in 1927 as a posh young maiden's residence, particularly for young starlets like Veronica Lake and Ava Gardner. Their presence lives on in a photo gallery in the third-floor salon, a Deco-style array of common rooms that include a catering kitchen, 50-seat dining room and a screening room. While the building's history feels most potent here, one does get a whiff of it here and there throughout the well-groomed halls, even if only 10 of former hotel dwellers still reside there, according to Alice Delman, who moved in in 1959.
The sales price of unit 14B was recently reduced from $7.25 million to $6.98 million. The current owner is listed on Streeteasy as Robert Eide, who appears to be the former CEO of Aegis Capital. He paid $6.75 million for the place in 2013, but never really moved in, according to a source. Why not? It's bright and modern without being antiseptic, and seasoned but not musty. Surely proximity to Bloomingdales and Barneys is a plus for someone with … capital?
"If the ceilings were two feet higher, your work here would be done," we said encouragingly to the broker, Douglas Elliman's Jennine Gourin, who was clad in all white as if to help reflect even more light.
"Then it would be a $10 million apartment," she shot back.