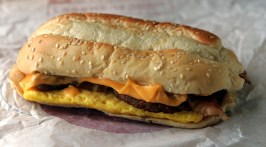 Brunch may reign supreme in New York, but one Kickstarter campaign could help breakfast make a comeback.
Brooklynite Joseph Checkler wants to distribute instructional pamphlets for how to improve breakfast sandwiches across Midtown. Instead of throwing "over-scrambled" eggs on the grill, he recommends cracking two eggs and letting them cook for two minutes before gently breaking the yolk, smoothing it over the egg white and carefully seasoning it with salt and pepper.
The New York breakfast sandwich is an art unto itself. Or, according to Mr. Checkler, a science—he's arrived at an eight-step method he says will help "adequate-but-unachieving" egg sandwiches reach their full potential. Of course, in a city where everyone's a corner store connoisseur that just sounds like fighting words to us, but hey, we're hungry.
In order to satisfy printing and mailing costs for the booklets, Mr. Checkler set his Kickstarter goal at $310. With 16 days left of his campaign, he's already raised $383.
To his fellow breakfast sandwich enthusiasts and investors, Mr. Checkler ensures, "We're in this together." We hear you, man. Just don't hold up the line at the counter.