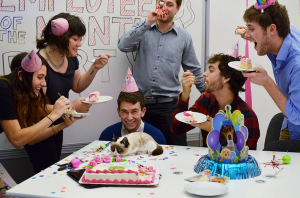 BuzzFeed has moved one step closer to total Interwebs domination.
The company announced this morning that they've closed a $50 million Series E from Andreessen Horowitz, and that they're implementing "major expansion across all business lines." 
The expansion will include, as detailed in the press release:
A beefed-up editorial section, sub-divided into BuzzFeed News, Buzz and Life. BuzzFeed Life, just so you're aware, will "launch a test kitchen and food lab in Manhattan to create more original lifestyle content."
A new video section called BuzzFeed Motion Pictures that'll "focus on all moving images from a GIF to feature film and everything in between." Hollywood producer Michael Shamberg and actor/comedian Jordan Peele have casually joined the section as advisors.
BuzzFeed presence in India, Germany, Mexico and Japan.
A new unit called BuzzFeed creative that'll be responsible for managingall that fun branded content that tricks you into thinking you're reading a real listicle, only to find out its a thinly-veiled ad for sunscreen.
Whatever this is: "The company will launch a new distributed division creating 'BuzzFeed, off BuzzFeed' led by Summer Anne Burton that will scale BuzzFeed's deep understanding of the social web and why people share across other platforms." Sure, why not?
"We're in the midst of a historic shift in the media industry where news is increasingly being distributed on social networks and consumed on mobile devices — we believe BuzzFeed can emerge from this shift as a preeminent media company," Andreessen Horowitz's Chris Dixon, who'll also join BuzzFeed's board of directors, said in the release. "As an early investor in BuzzFeed, I've seen first-hand how technology is at the core of the BuzzFeed business and culture and permeates every organizational function, allowing them to lead in this social and mobile dominant age."
For its next trick, we expect BuzzFeed will work on colonizing Mars.