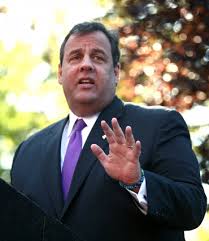 Gov. Chris Christie took a break from his travels this week — he was in Maine on Tuesday and Alabama and Mississippi on Wednesday — to tell New Jerseyans that he's still "thinking" about a 2016 presidential run.
It was a kind gesture, giving his supporters something to chew on as he continues to test the waters.
As head of the Republican Governor's Association (RGA), the duties of which have kept him bouncing from one part of the country to another over the last several weeks, Christie's been given a chance that few of his competitors will have had come 2016. He's been able to tout his unique political style in front of potential voters in primary battleground states to see how it fits. He's gained important exposure with the conservative donors needed if he plans to mount the field in a business where money talks above most else. He's also spent valuable time with the governors he's there to support, building allegiances he can call on when the time comes.
All this and more have allowed him to probe the depths of a possible White House run without actually getting wet. "It's an invaluable testing ground," said Ben Dworkin, director of the Rebovich Institute of Politics at Rider University. "It will help him answer questions like, 'Will Chris Christie play in Topeka?'"
But if there's one uncertainty — and of course there are many — it might be the governors themselves, really Christie's primary concern as head of the RGA. Each stump speech and endorsement Christie lends a party gubernatorial hopeful — while not necessarily his last — could come back to sting him if that candidate winds up undone, especially in a contested election year where Republicans, at least in the senate, are expected to make out like bandits.
But gubernatorial races — defined by regional politics and local habits — can be unpredictable.
Look at the numbers.
There are a total of 36 gubernatorial races on the 2014 ballot right now. Out of all 50 state seats, 29 are held by Republicans, with 21 held by Democrats. At least four of those are toss-ups, according to Larry Sabato, Director of the University of Virginia's Center for Politics and author of Sabato's Crystal Ball. By Sabato's estimates, "you can have anywhere from Republicans gaining one [seat] to Democrats gaining two, somewhere in that range. But state's aren't equal, and elections gubernatorially will be judged on the big ones."
Those "big ones," he said, include places like Florida, Pennsylvania, Wisconsin and Michigan — places where Republican incumbents "are in trouble."
While Sabato said most predictions look favorable on Republicans — both in the senate, where Republicans are expected to pick up between five and seven seats, he said, and in the state capitols — there's always the possibility of upsets, particularly in the aforementioned states. In Pennsylvania, for example, Democrats have drawn a bead on incumbent Tom Corbett, whose consistently low approval ratings in recent months make him a prime target. In Florida, sitting governor Rick Scott also stands vulnerable.
This is true even in an election year where voters might be suffering from the Democrat fatigue of Barack Obama's 8 year presidency, "just because governorship elections don't run on the same track as senate elections. People judge their candidates differently, so you can have Hawaii electing a Republican and a Kansas electing a Democrat," Sabato noted.
Yet the uncertainties haven't deterred Christie, who's placed his bet on a number of these at-risk candidates. In his role as RGA chair, he's campaign for Corbett and Scott, but also Michigan incumbent governor Rick Snyder and, more recently, Maine governor Paul LePage, both of whom are, like Christie, blue-state governors facing serious pressure from the opposing party.
Clearly, for Christie, these races are not "lost causes."
Still, he's forced out on a limb with them, which might affect his prospects as a successful party-consolidating Republican in the primary two years from now — though probably not enough to put a run out of the question altogether, Sabato notes. "Suppose Republicans end up losing Florida, Pennsylvania, Wisconsin, Michigan, they lose four big ones. Christie will take some knocks," he said. "But you never know how much these things matter, because that's not what will make Christie win or lose the Republican nomination. It's kind of a minor talking point in comparison to the big things like Bridgegate."
Dworkin wouldn't even go that far, maintaining that Republicans, even in state capitol buildings, are poised for a good year: "Historically, this is the year when the party not in the White House — the Republicans — will do very well. And so no one expects that there should be a Democratic surge at this point."