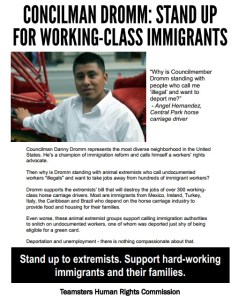 It was a morning of sturm und Dromm.
Carriage drivers from the Teamsters union struck back against Queens Councilman Danny Dromm today, rallying in his district against a proposed ban on horse-drawn carriages that the lawmaker enthusiastically endorses. The drivers passed out English and Spanish-language fliers on Roosevelt Avenue and 74th Street in Jackson Heights–pushing back against the aggressive organizing efforts of animal rights groups like NYCLASS.
"We distributed five to 600 fliers, just getting the word out to constituents and Councilman Dromm that we were upset with him for getting behind this legislation, whatever that may be," Stephen Malone, a spokesman for the Horse and Carriage Association of New York and a Teamsters delegate, told the Observer.
The fight over the carriages dates back to last year when Mayor Bill de Blasio, then a fledgling Democratic candidate, promised to ban horse-drawn carriages from city streets when he was elected mayor. NYCLASS, short for New Yorkers for Clean, Livable and Safe Streets, launched an independent expenditure against one of Mr. de Blasio's top rivals that helped clear the way for his victory in the Democratic primary. (Animal rights groups say the horses are treated inhumanely.)
Now, NYCLASS is ratcheting up pressure on Mr. de Blasio and the left-leaning City Council to enact a ban. Mr. de Blasio and Council Speaker Melissa Mark-Viverito endorse a ban but legislation has yet to be introduced: many council members, also close to labor unions like the Teamsters, want guarantees that all of the carriage driver jobs will be replaced with well-paying alternatives.
As Mr. Malone pointed out, some of the carriage drivers are also immigrants given the rare opportunity to have a unionized job. He said Mr. Dromm, one of the more liberal council members and a noted supporter of immigrants rights in a heavily Latino district, was acting hypocritically by endorsing a ban.
"NYCLASS has said a lot of anti-immigrant things on their website and said a lot of anti-immigrant things to drivers and these are his friends. The fact that he says he supports immigrant rights–it's very hypocritical," Mr. Malone argued. (NYCLASS has claimed that carriage drivers uttered "hate speech" in the past.)
NYCLASS recently rallied at City Hall and gathered petitions for a ban in several council districts, with more petitioning planned in the coming weeks. They called today's event "desperate."
"The carriage horse industry has clearly become desperate with these  scare tactics. We know that Councilman Dromm – a longtime supporter of human and animal rights – won't be bullied by these blatant falsehoods," said John Eddy, a spokesman for NYCLASS. "It's always been NYCLASS' stance that any legislation removing horse carriages from New York streets should also protect jobs and we support the mayor's efforts to do just that."
Mr. Dromm did not immediately return a request for comment.
Updated with comment from NYCLASS.