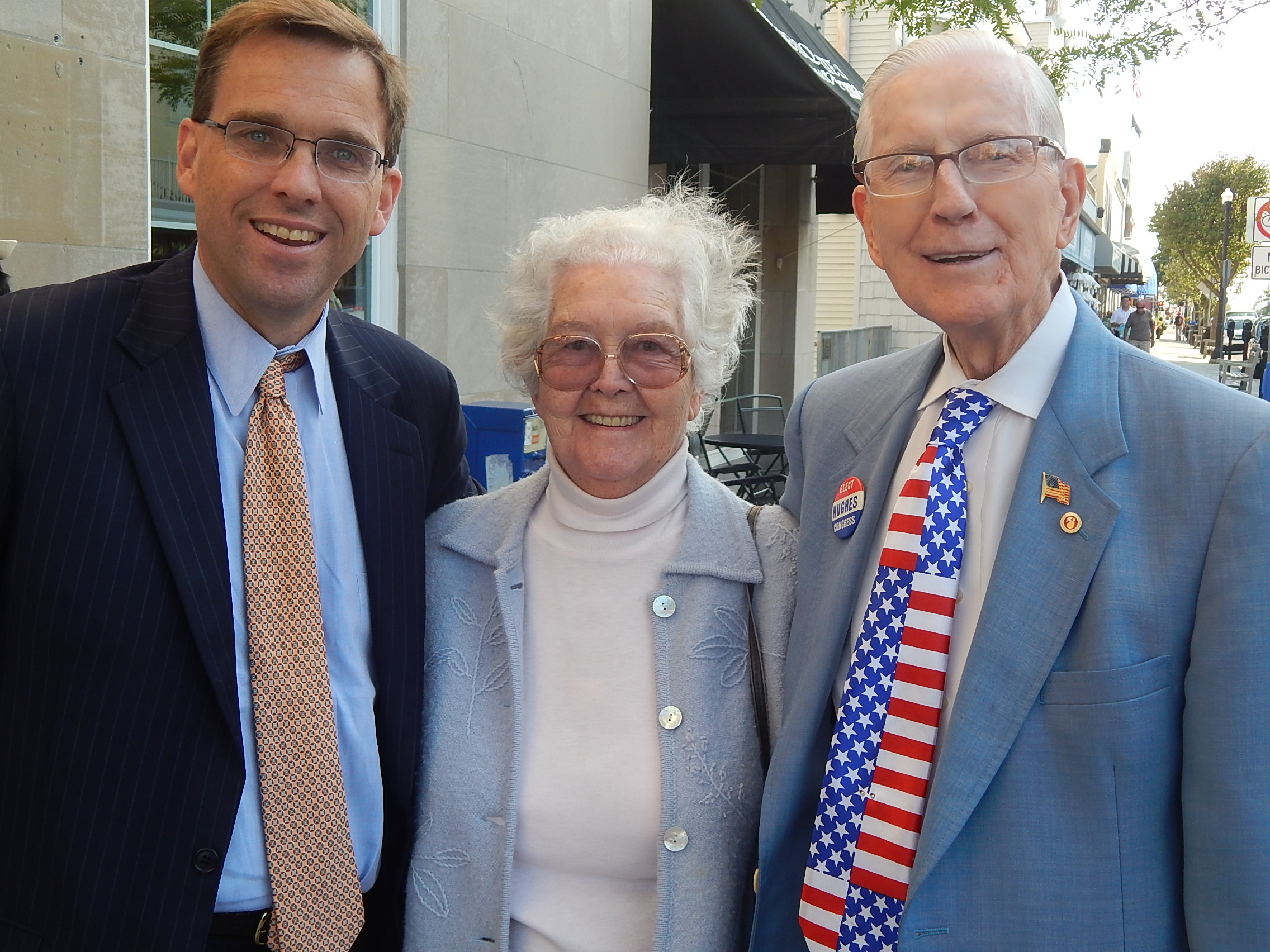 OCEAN CITY – The spatial relationships of buildings with the sun on them and long shadows in the big semi-silent boulevards pressed up against the ocean give the downtown the feel of the Old West: Dodge pushed to the edge of the beach.
You could walk around these blocks with any western soundtrack blaring in the background and almost get away with it.
Almost.
Certainly Bill Hughes Jr. wants to turn the environs into a High Noon showdown with U.S. Rep. Frank LoBiondo (R-2), or at least a barroom brawl that spills into the street.
But LoBo, the tin star equivalent of sheriff here in CD2, hardly looks willing to scrap with the young Democratic upstart from Ocean City.
"He hasn't had a debate since 2008," said Hughes, an attorney, son of former U.S. Rep. Bill Hughes (D-2).
It's a conservative district.
So what passes for a general election contest – at least in Republican circles – is actually Hughes' history with state Sen. Jeff Van Drew (D-1).
Junior ran for the state senate in 2001.
The party pulled Van Drew in to run for the assembly on the Hughes ticket.
The two men hit heads early and often on strategy. Part of the problem was Van Drew wanted Hughes in Cumberland, and he wanted to work Cape May.
Hughes disagreed.
They ended up running separately, with most observers concluding that the whole ticket would go belly up or that Hughes – on the strength of name ID – would squeak out a win.
A mayor turned freeholder turned losing assembly candidate turned mayor turned freeholder, Van Drew won, while Hughes, son of the distinguished ex congressman, father of beach replenishment, lost by around 800 votes.
The younger Hughes faded into private practice and family.
From his lower house platform in the assembly, Van Drew took a 2007 run at Republican Senator Nick Asselta – the toughest run of his career – and beat him.
He's spent the years since sizing up a run for congress against LoBo.
In the midst of one such assessment last year, Hughes surfaced and announced his intention.
To run.
For Congress.
Van Drew was irritated but last week the two rivals sat down and the congressional candidate emerged with an endorsement by the senator.
"We've been engaged for months, campaigning," said Cape May GOP Chairman Mike Donohue, a contrast to Democrats still resolving old war wounds.
Tonight, Hughes – just shy of $400,000 cash on hand – opened his regional campaign headquarters in downtown Ocean City.
He doesn't have LoBo's money ($1.6 million COH) the support of the Democratic Congressional Campaign Committee (DCCC), but his father was here – with connections going back to his 20 years of service in Congress.
The elder Hughes had a habit of reaching across the aisle.
As if to prove that point, Daniel Broadley, 90, of Ocean City (pictured above with the young Hughes), entered the campaign hall.
He wore a button from Hughes, Sr's first campaign.
"I'm a Republican, and have always been a Republican since being born poor right here," said Broadley, who ran Hughes' first campaign.
His charge stood in a circle of revelers.
"There is little bipartisanship in Congress now," the elder Hughes told PolitickerNJ as his three grandsons scampered on the heels of their father through a room packed with supporters and Hughes for Congress signs in the windows.
"I feel good about his chances," the former congressman said of his son. "He came to me in October of last year and I asked him, 'Do you really want to do this now?' It's so broken."
The younger Hughes told his father that now was the time to go.
"The only way to have a future is to build today," said the candidate.
What about Van Drew, PolitickerNJ asked him.
What about the bad blood?
"There is no bad blood," Bill Hughes, Jr. insisted. "That's a perception that's been played up in the press. We sat down last week and talked about the future of the party. Jeff's a leader who knows we have to build."
Van Drew's people are watching the young Hughes.
If he can get close to LoBo – five to eight points – without D.C. engaged – maybe Van Drew will reassess his own future.
But if Hughes doesn't impact this general election – if he doesn't drag the incumbent into a fight in this stagnant cycle where the polls show President Barack Obama and the Republican Congress both back on their heels – Van Drew could take that shot himself come 2016.