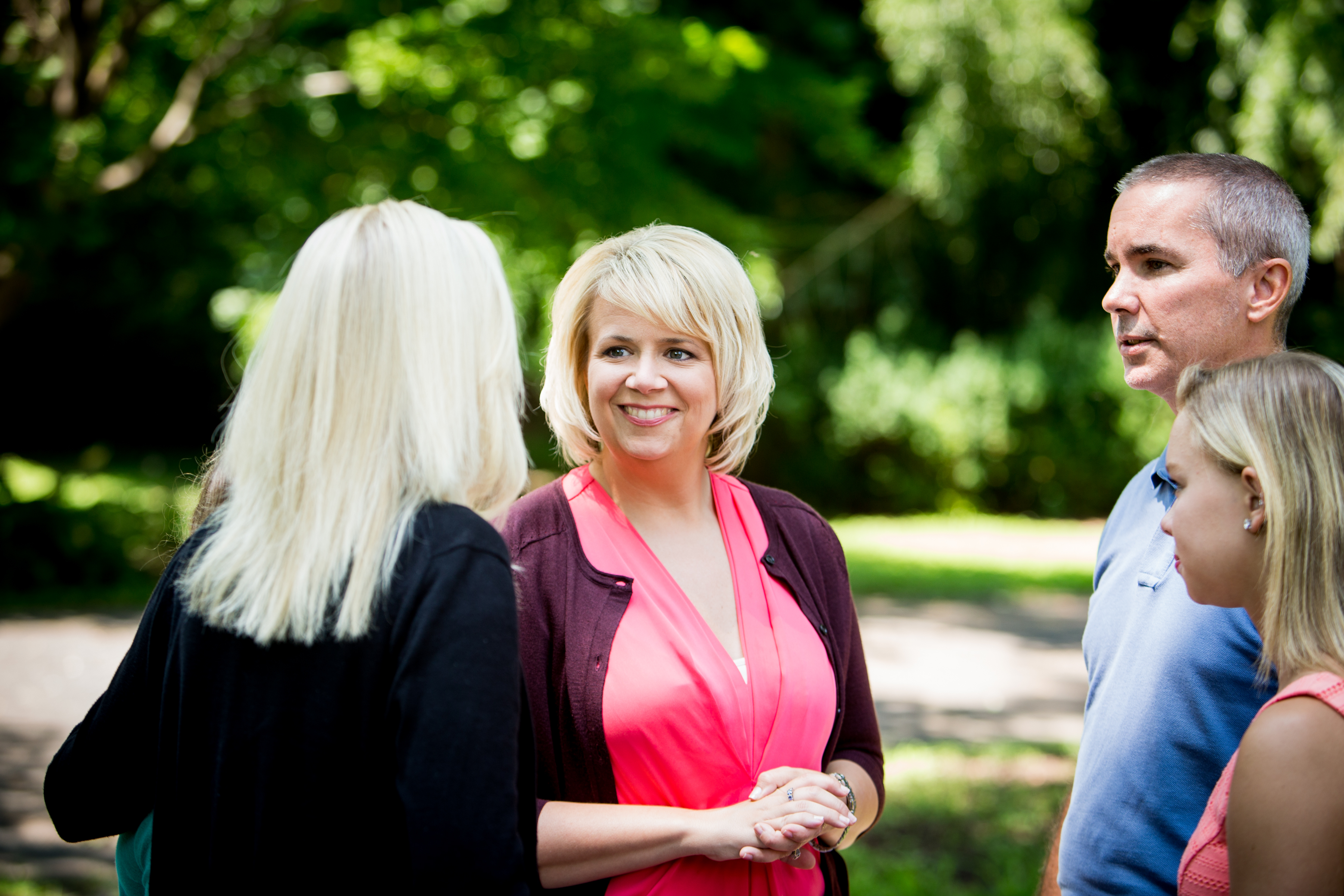 The last time political observers in New Jersey witnessed an open seat race in South Jersey's 3rd congressional district, it was in 2008, when the late John Adler, fighting for a post vacated by Jim Saxton, beat out the Republican competition to become the first Democrat to win in the red-leaning district in over a century.
The political dynamics at the time made for a perfect storm: Adler, riding national Democratic support on the rising tide of a Barack Obama revolution — and, already a well-established New Jersey political animal, with the wind of South Jersey's Democratic family (i.e., George Norcross III) at his back — ran a whirlwind campaign to beat out Chris Myers, Medford mayor and Gulf War veteran, with 52 to Myers' 48 percent of the vote.
But that was six years ago, and — fast-forwarding to today — those political dynamics that paved the way for Adler's victory aren't the same as those surrounding the campaign of Democratic candidate Aimee Belgard and her prospects against former Randolph mayor, district expat, and multi-millionaire Tom MacArthur.
Adler lost his seat two years later — to John Runyan (R-3), the former NFL star whose own early retirement this year leaves the seat open again to Belgard and MacArthur in November — but political insiders agree that the former senator carried all the makings of a formidable — and winnable — CD3 candidate early on. On top of his South Jersey support system, he had the fundraising and campaigning chops needed in a district like CD3, where registered Democrats outnumber Republicans 122,781 to 114,729, but where its 214,881 independents have a nearly exhaustive history of leaning Republican.
Adler out-funded Myers five-to-one throughout most of the campaign, and, by election day, had raised more money than any other non-incumbent congressional candidate in the country.
Then there were the external forces at work: including Obama's superstar summit on the national scene, leading to one of the best years on record for Democrats in the U.S. House of Reps, but also involvement in the district from the Democratic Congressional Campaign Committee, who swooped in to dump $1.7 million in media buys for Alder's campaign.
"Everything was perfect," said one observer of the 2008 race.
It's tough to resist drawing comparisons between that race and this year's, as Belgard, a Burlington County Freeholder, is up against some of the same challenges Adler was — namely, the challenge of winning over voters in a district that leans heavily Republican, and made worse by a 2011 redistricting that added Ocean County's Brick township and removed Cherry Hill. Both, moreover, vie against Republicans in open seat races.
There are other similarities, insiders say, between the candidate themselves, too — much like Alder, Belgard is also revered by those close to her as hard-working and highly personable, someone with the political and moral fiber desperately needed in Washington right now.
But there are many more differences, not the least significant of which are the external factors. Democrats in both the House and Senate are expecting a poor election year following Obama's eight year stint in the White House, and that might affect Belgard's ability to get out the vote. There's also the money factor — MacArthur, a self-made millionaire, has already pulled $3 million from his own pocket to put towards his congressional bid, and all indications show he'll spend that much more before the campaign is over.
Belgard, alternatively, has raised nearly $826,000 by June 30 (at this time in the lead up to the 2008 general, comparatively, Adler had $1 million in the bank).
Those factors put Belgard at a disadvantage. But some, who watched Adler strong arm his way past the 2008 competition in an epic sort of fashion — and who express frustration as they now watch Belgard, in their words, lead a "cookie-cutter" campaign by the "DCCC playbook" — say the candidate's biggest disadvantage is her own campaign.
As one South Jersey Democratic party source put it: "It's abysmal. Anyone who thinks Belgard can win is delusional."
Among other things, critics fault Belgard's campaign for perceived inconsistencies in its message, and think its team should be hammering home harder the real issue with MacArthur's candidacy — that he's a multi-millionaire district expat looking to buy a seat in congress.
"She's running against, essentially, a guy from Morris County and she seems more uncomfortable," one source said. "She's not talking local issues, she's refusing to debate, she's a DCCC puppet."
"None of her qualities are coming out," the insider added. "She's a great person."
Part of the problem, some observers are quick to note, is her apparent lack of connection to South Jersey's Democratic leadership, which include the likes of George Norcross and his allies, something Adler had and which was integral to his campaign's success. One source pointed out that Belgard's campaign team contains mostly DCCC-connected staffers, and few New Jersey-based strategists.
She also seems to lack any relationship at all to Democratic party power brokers in the state, such as U.S. Rep. Albio Sires (D-8), who, when asked about the CD3 race, responded, "I don't know how much I can help."
Sires did however lend an endorsement to another area candidate not long ago, specifically Assemblywoman Bonnie Watson Coleman (D-15) during her Democratic primary in congressional district 12.
But Hannah Ledford, campaign manager for Belgard For Congress, countered the campaign has been "very" consistent in its message, noting that they have roundly criticized MacArthur not only for his carpetbagger status, but also for his work as an insurance executive.
In a press release last week, for example, the Belgard campaign alleged that as President and CEO of York Risk Services, MacArthur's company was sued by over 120 current and former employees for failure to pay its workers overtime in an ongoing class action lawsuit.
"Tom MacArthur raked in millions while, on his watch, his company was sued for refusing to pay overtime to its employees. That's unforgivable and is yet another example of how 'profit-at-any-cost' seems to be his top priority." Ledford said in the release.
Yet if Belgard's campaign has one thing in common with Alder's, it's that the DCCC has again taken an interest in the district, recognizing it as one of the only really competitive races in the state this election season. The organization launched a media buy earlier this month at $100,000 a week — $1.3 million between now and election day — bashing her competitor's work as an insurance executive, a position both the DCCC and the Belgard campaign have alleged he used to "shortchange" victims of natural disasters.
They've also included her as a candidate to watch in their "Red to Blue" program, which targets the most competitive congressional races nationwide.
That media buy — in the form of an ad entitled "Deny" — created some waves last week when a review by the non-partisan FactCheck.org described it's message as a "pattern of deception" for implying that MacArthur himself was the focus of several lawsuits alleging that he had cheated disaster victims, when it was actually his company that stood accused.
After MacArthur's campaign filed complaints about the ad this week with the legal department at Comcast, which has been airing the video in the district, the DCCC seems to have re-released an edited version today.
Chris Russell, a spokesperson for MacArthur's campaign, blasted Belgard for "standing behind and parroting the DCCC's deceptive and dishonest ad" and called on her to "publicly apologize to Tom MacArthur for doing so."
Still, it's unclear if the DCCC's latest investment in the race — though it adds legitimacy to Belgard's candidacy — will be enough to carry her through to the finish line in November. Like Runyan before him, and former governor John Corzine before that, MacArthur was recruited by the GOP against primary competitor Steve Lonegan because he had deep pockets. Last week he told Philly.com that "he has resources," so Belgard "won't outspend me."
The questions then is: how much is he willing to spend to ensure his seat on Capitol Hill?
Some say that larger media buys will be invaluable if Belgard wants to get her message out to voters — particularly swing voters in the Ocean County half of the district. Those voters are in New York City's market, while most in Burlington County are in Philadelphia's.
Of course, others note that Belgard may not have to raise the money to match MacArthur herself, as long as she can win support from independent expenditure organizations, such as EMILY's List, a Washington-based PAC that helps pro-choice candidates get elected to office. EMILY's List recently endorsed Belgard's campaign, noting her "tremendous record of leadership and service as a public official and advocate for cancer research and prevention."
There's also her work out in the field. If it's "being on the ground, hard work, and talking to people in the field that gets it," than Belgard, who's been busy with local meet-and-greets and fundraisers in recent weeks, has the edge over MacArthur, one source told PolitickerNJ.