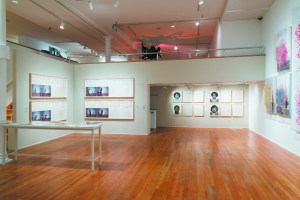 A show featuring the work of conceptual artist Charles Gaines is the sleeper hit of the summer.
Curated by Naima J. Keith at the Studio Museum in Harlem, "Charles Gaines: Gridwork (1974-1989)," puts on view 10 of Mr. Gaines' early conceptual projects and deftly sketches out his context—from Castelli Gallery, where he showed in the 1980s, to Cal Arts, where his teaching has been influential to a generation of artists including his son, the performance artist and curator Malik Gaines.
Charles Gaines takes large photos of quotidian items—tropical house plants, trees, portraits of friends—and maps their values onto gridded paper. The process is visually appealing, with tiny handwritten numbers substituting for areas shaded on the black and white photographs. Often a single image will undergo several transformations. This is staunchly inexpressive art, yet in the hand-drawn transitions from image to grid to yet another grid there's an element of whimsy. The simple, elegant systems favor chance over expressiveness, an aesthetic that Mr. Gaines, once a jazz drummer, picked up from John Cage. The resulting drawings propose that art is itself a semiotic system, representing rather than reproducing reality.
In motion studies of the dancer Tricia Brown, Mr. Gaines' system is put to good effect. Single forms are each one color, with delicate overlap between gridded groups of green, blue, black and red numbers, and the x and y axis sketch out the way a body moves through space over time. Portraits of figures, including his friend the musician Terry Allen, create grids of faces familiar to the Los Angeles art scene. Works like the large series of 3D acrylic-and-Masonite paintings of trees shadowed by their own grids follow Georges Seurat and Roy Lichtenstein's investigation of the role of the dot in painting, and prefigure the binary codes of contemporary digital photography.
Mr. Gaines was born in the 1940s in Charleston, South Carolina, and moved to New York, where he was exposed to Sol LeWitt's practice. Curator Lucy Lippard championed his work. A section of ephemera in the Studio Museum shows exhibition announcements—in 1975, he was in the Whitney Biennial. He exhibited alongside Fred Sandback in 1979. There's a letter Mr. Gaines wrote to LeWitt describing his process.
At his job at CalArts he taught alongside Michael Asher—his studio classes focused on critical theory and conceptual practices. A handsome catalog contains testimonials by artists who were his students: Sam Durant took his course on semiotics; Rodney McMillian was his teaching assistant for postcolonial theory.
Mr. Gaines' first museum survey show, on view through October 26, follows on the heels of a show at Paula Cooper Gallery, "Notes on Social Justice," last fall. It would seem his work maps well onto the current moment.