For Brendan Hunt–writer and star of Absolutely Filthy–the idea to turn a popular children's cartoon into a gritty, dark comedy came while dancing alone in the desert campground of Burning Man at the presuppose of sunrise, kicking up dirt as a remix of Bill Wither's "Ain't No Sunshine" reverberated in the morning light. This daybreak cavort created a cloud of dust that reminded Mr. Hunt of the Peanuts character PigPen and thus, Absolutely Filthy was born.
This could have remained an amusing but quickly forgotten idea had Mr. Hunt not had the good sense to write it down later that morning. The practice of transferring an idea to paper is a discipline Mr. Hunt uses to navigate the metaphorical dust cloud that is the creative process.
I recently met the creator of Absolutely Filthy–a dark comedy based on the classic American cartoon Peanuts–at the Think Coffee near NYU in a dimly lit booth. Mr. Hunt, who is only in town from Los Angeles for the three-week run of the show, had come straight from a meeting about another play he is working on with the Fringe NYC and was fully engrossed in a legal pad full of notes when I approached the table. Luckily, he and I met a few years prior in Los Angeles, or I would not have recognized the man sitting in front of me, as he was significantly more coiffed—and frankly, cleaner—than his character in the show.
Mr. Hunt plays The Mess, a now penniless college-dropout who, after a crushing breakup from The Bereaver (based on Peanuts character Sally), finds himself unable to cope with the demise of the relationship. While begging for change outside of a church, The Mess encounters the rest of the now-grown up gang as they attend Charlie Brown's funeral. If you remember from the comic strip, Charlie Brown's sister was Sally and since the names had to be changed for obvious legal reasons, The Bereaver is a rather clever sobriquet. The dark comedy addresses themes of self-loathing, social prejudice, and love in a way that is sidesplittingly funny while also deeply sincere.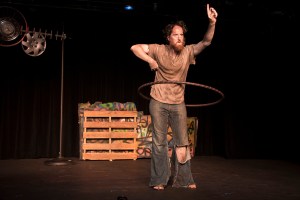 The play was originally developed as a series of 10-minute sketches at The Sacred Fool's Theater in Los Angeles, where the audience voted for the show they wanted back the following week. "That construct sort of weirdly helps you make it interesting because you have a short amount of time and you need to get voted back," Mr. Hunt told the Observer. He explains that the play came together when the theater company asked him to turn the audience's favorite sketches into a full-length piece. The result is a show that, as an audience member of Wednesday night's performance in NYC exclaimed, "Just makes you feel sooo good!"
I'm no doctor, but I assume this showgoer was experiencing the endorphin high that accompanies laughing until your eyes water. The show throws good humored but audacious punches at modern culture, features full frontal male nudity, and gives prominence to, of all things, Mr. Hunt's ability to hula hoop (which he does for the entirety of the show while maintaining the deep stillness required to deliver a compelling dramatic performance.)
Mr. Hunt–who along with his theater degree studied at The Second City in Chicago–admits he grew as both a writer and actor during the lengthy process of getting the show from Hollywood to New York City. "One thing you learn from comedy writing, or sketch writing, is just to be vicious about cutting. Do not get sentimental about cutting. That bit doesn't work, get it out." The result is a lean, sharp-witted display of perfectly timed jokes and thought-provoking one-liners.
One of the themes of the play, guilt, is also prevalent in Mr. Hunt's life, particularly during his childhood. In his early 30's he spent several years in Amsterdam living by gezellig, a Dutch saying that means something to the effect of "accept people for who they are."
"What's the problem? You're fine? He's fine. It's okay," Mr. Hunt explained using a fake Dutch accent. This archetype of tolerance and taking pleasure in the idiosyncrasies that make each person unique is brilliantly balanced between sarcastic jesting and a comically uncomfortable display of public nudity.
"The show is basically trying to encourage people to resist the crushing and unnecessary power of guilt," explained Mr. Hunt, who included one of his favorite Shakespeare quotes in the play to further illustrate this concept. "There is nothing in this world that is good nor bad but thinking makes it so."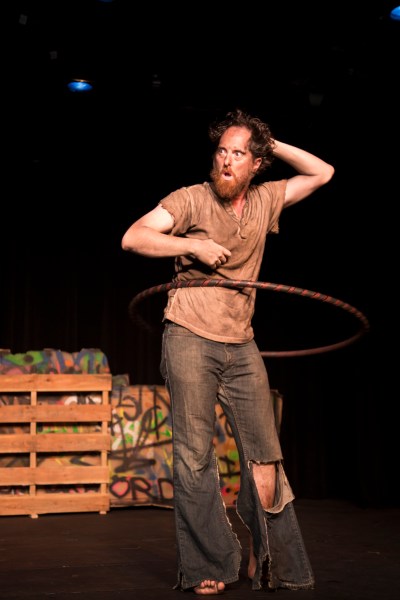 He adds that while his character is homeless, he was more interested in exploring themes of judgement, perception and acceptance of ourselves within the play. "I never intended this but people really see it as a big defense of homeless people and that's great–I mean, let's treat everyone better, I'm all for that, but that was really never in my mind," Mr. Hunt said.
The play also address themes of laziness, procrastination and the inevitable regret that generally follows those vices. Mr. Hunt explained that, in terms of writing, the best way to combat these hurdles is immediate output. The creator, who often wakes up in the middle of the night to jot down an idea before returning to sleep, explained that "I learned early on that it's important to respect every idea as if it could potentially be worth something later." Adding, "You can't get notes on a thought–you can't get feedback on something internal--so put something on fucking paper and figure it out from there. Output is more important than ideas."
A final takeaway from this unique production is the seemingly simple but often difficult to execute adage: think outside of the box. One of the more memorable details of the play, as I mentioned, is the fact that The Mess is perpetually hula hooping. "I thought how can I do the cloud of dust and there was only one answer, hula hooping. It's kinetic and ever-present and people would basically forget about it, which is the goal. That's why the hoop is only brown and black, there's nothing shiny." It's an idea that almost shouldn't work, but somehow, it just does. When asked how the actor sustains hula hooping for two hours, Mr. Hunt explains, "I'm not actively thinking about it unless it hits something or starts to fall, but at this point it's pretty much subconscious."
As an afterthought, he adds, "Plus, it's great for your core."
If the show, which has received several awards in Los Angeles including Best Actor and Best Ensemble from the LA Weekly Awards, is proof of anything, it's the importance of output. "Trust your stuff and get it out" are words I will remember the next time I find myself in the proverbial (dust) cloud of creativity.
You can catch Absolutely Filthy at The Players Theater (115 MacDougal Street; West 3rd x Bleeker.) Though the play closes its New York run this week, there are two performances left, so go see it, blockhead. Tickets are available at thefringenyc.org.