A group of Chinese protesters crashed a candidates forum at a Queens hotel last night, attacking John Liu for being an agent of the Chinese Communist government.
The protesters, likely belonging to the Falun Gong movement, unfurled a banner in front of Mr. Liu as he prepared to speak. One of Mr. Liu's supporters quickly leaped up to rip the banner out of their hands and hotel security was eventually called to cart the protesters away.
"Arrest John Liu to Prevent His Further Harm to the U.S," the banner read.
A sobbing woman in a neck brace, speaking in Mandarin, accused Mr. Liu of having ties to the Chinese government, according to Mandarin speakers present at the forum. Event organizers repeatedly, with little success at first, ordered her to leave as one man cried "John Liu go home!" After more than ten minutes–Liu supporters tried to shout the crying woman down–she eventually departed.
Mr. Liu, a former city comptroller and councilman, appeared more amused then disturbed after the protesters left.
"These people who voice their opinions, I think, they're certainly entitled like everybody else to voice their opinions. I've been told they are a part of my friends at the Falun Gong who have been following me for years mainly because they firmly believe I am a Communist spy from China," Mr. Liu said.
The crowd packed into a ballroom at the Sheraton LaGuardia East Hotel laughed.
"You can make your own conclusions," he added.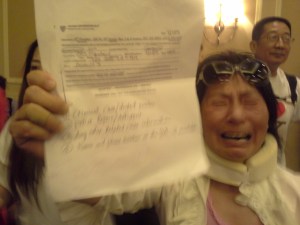 The forum, hosted by the Minkwon Center and several other immigrant rights groups, brought Mr. Liu and his rival, State Senator Tony Avella, into the opulent downtown Flushing hotel. The Democrats took questions separately from a panel and did not meet face-to-face, a fact that irked Mr. Liu, who threw several jabs at Mr. Avella. By the time the protesters arrived, Mr. Avella was gone.
The sobbing female protester, Fu Yuxia, told the Falun Gong-associated Epoch Times that she did not hail from the spiritual movement that is viewed warily by the Chinese government, though the manner of attacks against Mr. Liu are consistent with past Falun Gong protests. Mr. Liu was born in Taiwan and has spent the vast majority of his life in the United States, forging close ties with the Asian-American communities of Flushing that fueled his successful runs for City Council and comptroller before a fund-raising scandal derailed his mayoral bid last year.
On actual policy positions, Mr. Liu and Mr. Avella differed little. Each backed a higher minimum wage, the Dream Act, public financing of state elections and other liberal priorities. While Mr. Avella did not take aim at Mr. Liu, the former comptroller assailed Mr. Avella once more for betraying Democrats and progressives by joining a group of breakaway Democrats that governs the senate with the Republican Party (the Independent Democratic Conference recently agreed to ally themselves with the mainline Democrats after the fall elections.)
Policy, however, took a back seat to the brief chaos.
"These are my friends. They've been tailing me for the last ten years, last five years maybe," Mr. Liu, with a smile, told the Observer after the forum.