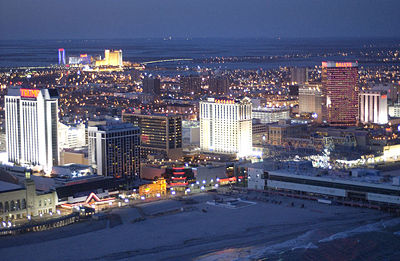 TRENTON – Atlantic City still may have some ways to go before it hits rock bottom, but the situation in the debilitated gambling mecca is now so dire that Gov. Chris Christie is convening a bipartisan summit of state and local leaders to address its future.
In a statement today — bylined "Trenton, NJ" even though the governor is in Alabama at the moment — Christie announced the need for state and local policymakers and stakeholders to come together to re-examine the economic challenges the city faces in the wake of a decline in its casino industry. That decline includes the impending closures of at least four of the city's biggest casinos — including The Revel, it's newest and most expensive.
"There is no doubt that Atlantic City faces real challenges as the city undergoes revitalization, which is why this summit of key policymakers, local leaders and stakeholders is needed to be an active part of the conversation as to how we can best address these issues that have a broader impact on the broader region and our state as a whole," said Christie, who's out-of-state again this week touring as head of the Republican Governor's Association.
The summit will include representatives from Atlantic City's casino industry and labor, as well as experts on the state's gaming, sports, and entertainment issues. The results of the summit will then be taken up by Jon Hanson, chairman of the New Jersey Gaming, Sports and Entertainment Advisory Commission, who will work to implement any ideas or reforms.
"We know that the transformation taking hold in Atlantic City is about more than just gaming and gaming-related attractions. Important signs are evident of the progress taking hold in the non-gaming development and economic activity we are seeing in AC, including businesses opening, attractions being added, and key non-gaming revenue streams rising," Christie said. "All of these factors will be weighed as we consider the best course of progress for Atlantic City moving forward, and I thank these state and local leaders alike for joining me in coming together for this work."
Atlantic City's Showboat and Trump Plaza both face closures by the end of the summer, and the Atlantic Club shut its doors in January of this year. But the most recent blow to the city was dealt this week when Revel, after having gone through two bankruptcies and failing to profit, could not find a buyer at auction and announced it would close no later than Sept. 10. The casino employs some 3,100 people.
Christie, who pushed for nearly $250 million in tax breaks last year to get the building completed, pointed today to a number of other areas of growth Atlantic City has seen over the past few years, including hotel occupancies in excess of 95% this year, record wage growth at full-service resturants, and higher-than-average tax reciepts on things like alcohol and amusment attractions from 2011 to 2013.
Christie will lead the summit, which will take place on Sept. 8. The list of invitees, according to the announcement, are listed below:
Senate President Stephen M. Sweeney
General Assembly Speaker Vincent Prieto
Senate Minority Leader Tom Kean, Jr.
General Assembly Minority Leader Jon Bramnick
Christie Administration Cabinet Officials
District 2 Legislators Representing Atlantic City: Senator Jim Whelan and Assemblyman Chris Brown and Vincent Mazzeo
Atlantic County Executive Dennis Levinson
Mayor of Atlantic City Don Guardian
Casino Industry Officials
Organized Labor Officials
Nonprofit organizations dedicated to the City's revitalization, including the Casino Reinvestment Development Authority and Atlantic City Alliance
Other individuals with experience and expertise of New Jersey's gaming, sports, and entertainment issues