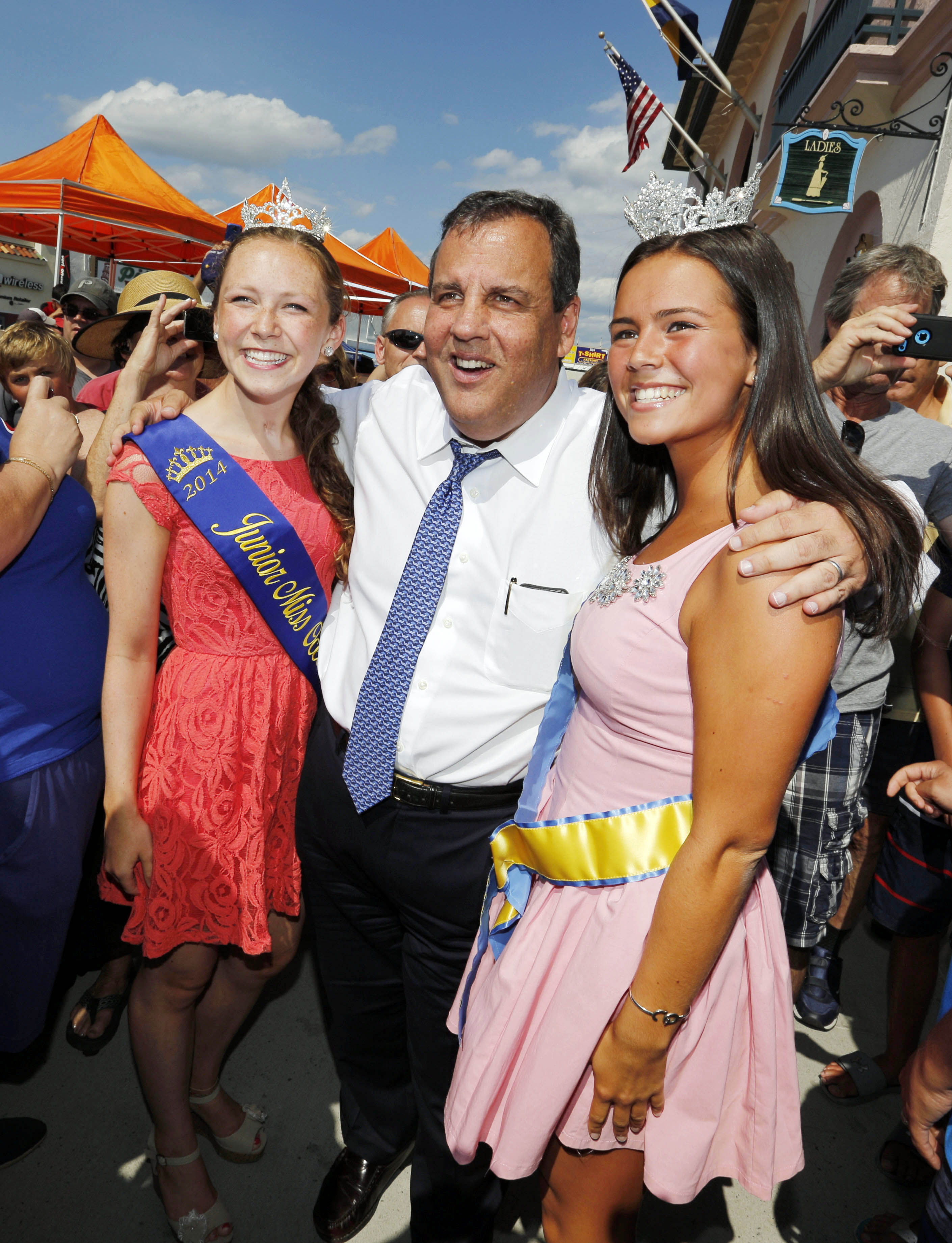 OCEAN CITY – Premature whispers and perked ears greeted a lonely U.S. Rep. Frank Lobiondo as he entered the Ocean City Music Pier here today ahead of Gov. Chris Christie, who found himself tied up with sunscreen-greasy handshakes and polite greetings with eager beachgoers on the boardwalk outside.
Lobiondo, who Christie fundraised for today as the 20-year incumbent makes another go at re-election in the 3rd congressional district, joined Christie for his latest "no pain, no gain" town hall along the Jersey Shore.
"I was at another event up in Northfield earlier today and someone asked me, 'How do you deal with all the controversy in this state, all the difficulties?" Christie said, beginning the event with a crash course in pragmatic politics. "And the only way to deal with them is to talk about it and be honest about it, and to deal with folks who are happy and to deal with folks who are unhappy in exactly the same way."
Christie, whose targets today included the state's pension system, Atlantic City's ailing casino industry, and President Barack Obama's "cadillac" health care plan, played up his no-compromise, get-things-done image, as rumours about a possible 2016 presidential run continue to build.
"The easiest thing to do is look at a person and say, 'Well, I'll reconsider,' because it gets you out of the conversation," he added. "But that's not who you voted for 4 years ago, that's not who you voted for last year, and that's not going to be me."
One of the biggest issues Christie focused on here was a troubled Atlantic City, which faces the impending closures of four of it's largest casinos. Christie offered his sympathies to those employees who face losing their jobs over the closures, which now number over 8,000.
Protesters gathered outside before the event, shouting "Save our jobs!" and holding signs with messages like "Act Now! Delay the closures!" scrawled across them.
Christie said he couldn't force private companies like the Showboat or Trump Plaza, two casinos that announced they are closing come fall, to stay open — nor would "we want to live in a world where I could."
"I'd love to wave the magic wand and fix things," he said. "I'd love to be the magic man, I really do."
Christie said he still plans on going forward with a Sept. 8 summit which will pull together local lawmakers and residents to review the city's economic challenges and figure out solutions to fix them.
He also still plans to tackle the state's pension problems, which include reconciling a nearly $1 billion state budget deficit with the fund's $90 billion in unfunded liabilities.
He said 60 percent of state revenues currently go to pay for that system, as well as public employee health benefits and servicing state debt.
"I want you all to understand what a daily, back-breaking seige it is to deal with pension and benefit reform," he said.