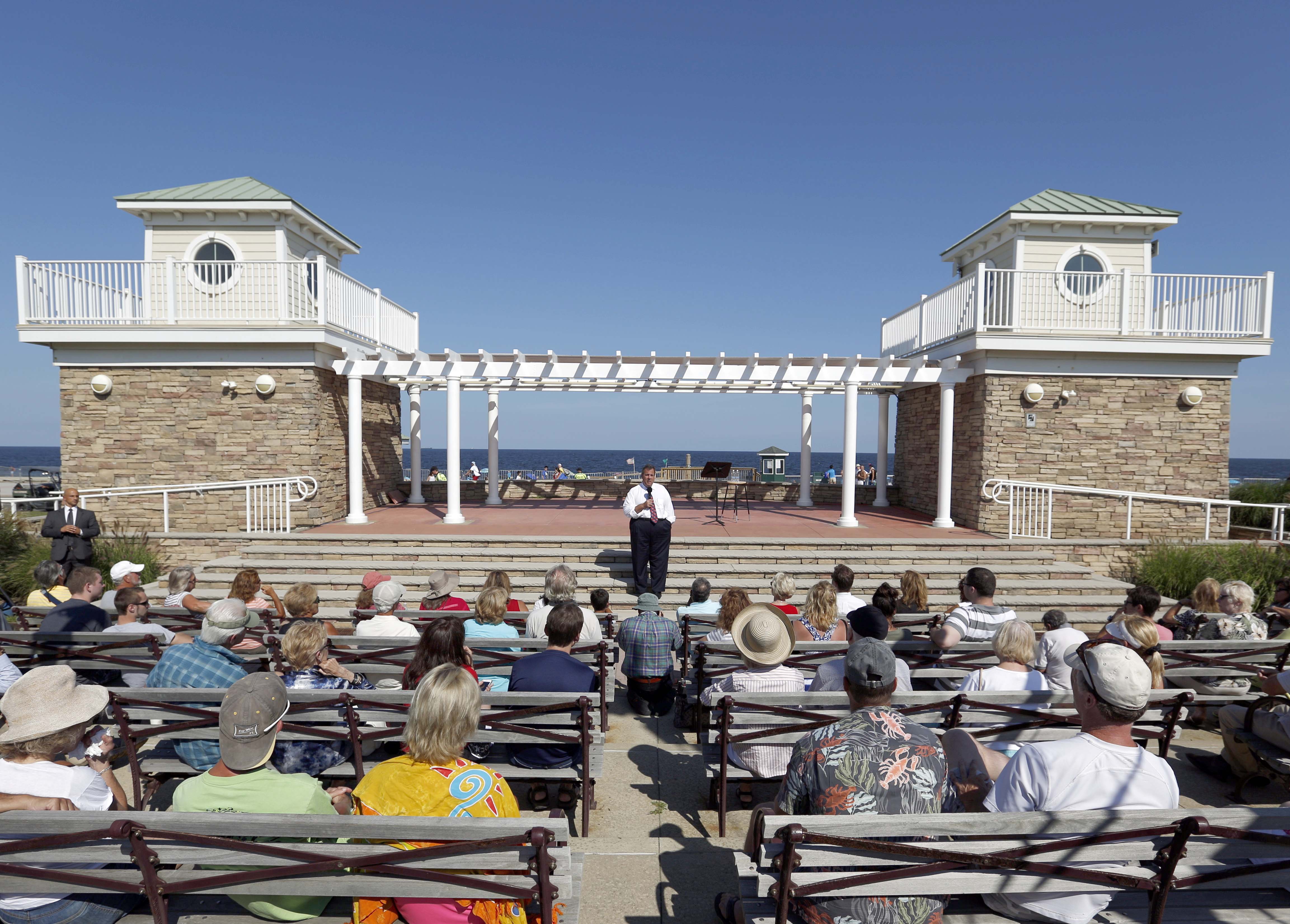 LONG BRANCH – Gov. Chris Christie kicked off another installment of his "No pain, No gain" town hall summer series here today as the season closes in on Labor Day, but this conversation at the Jersey Shore was different in at least one way than those he's held in weeks past.
There were no protesters — and few challenging questions from the amiable crowd of beachgoers, at least two of whom couldn't help but ask: will the Republican run for president?
"We'll see, I'm not sure. I don't have to make a decision now an I'm not going to. I love the job I'm doing and I love living here," Christie said.
"We've got a lot of colorful characters including myself that come from here," he said later. "Not matter what happens in my life, whether I run or I don't, the eight years that I have in New Jersey will be a wonderful memory for me."
A light sea breeze at his back, Christie spoke free of pressure from those groups who've dogged him at recent town halls — last week it was workers from Atlantic City's down-spiraling casino industry and, before that, a group of high schoolers from Newark's public school district, among others — as he addressed what he sees as two of big issues for New Jerseyans: pension reform and Atlantic City's gaming crisis.
"I was in Ocean City last week, and we have a lot of concern in that part of the Jersey Shore over what's happening in Atlantic City," Christie said, referring to the once prosperous gambling mecca, now suffering from a collapse of its gaming industry. Three casinos — plus one that's already shut its doors — in the city have announced closures by the end of the year.
Christie said he sympathizes with workers who face losing their jobs over the closures — now estimated at over 8,000 employees — but emphasized the positive growth the city has experienced over the last several years, including record-high hotel occupancies and employee wage increases.
"Remember, Atlantic City was built at a time when we were a monopoly," Christie said. "Now of course, over the last 35 years or so, we've had 38 other states join us in casino gambling … So downsizing has to occur when your built for a monopoly and you're not longer a monopoly."
Lawmakers in recent weeks have mulled the idea of opening gambling halls in North Jersey — specifically Jersey City and the Meadowlands — to stave off some of the spending that makes its way to casinos in competing states like New York and Pennsylvania. Christie said he still plans on going forward with a Sept. 8 summit which will pull together local lawmakers and residents to address the city's economic challenges.
"We can't look at this as a disaster — it's not a disaster," he said.
Perhaps the biggest challenge Christie faces as he prepares for — or continues "thinking" about — a 2016 presidential run is the state's fiscal health, which currently suffers from a nearly $1 billion budget deficit and a neglected public pension and health benefit system. The state has struggled to deal with nearly $90 billion in unfunded liabilities for the latter, which Christie again addressed at today's town hall.
Christie touted his administration's work with those issue, arguing that there are "lots of things we've done that have made the state more stable."
"We've downsized government, we've made it smaller, we're spending less than we have over the last 7 years," Christie said, adding that his recently passed budget for fiscal year 2015 will have the state spending less than it did in 2008.
He said the pension problem is "a situation that just can't go on."
"If you just listen to those facts the inescapable conclusion is we have to do something," he said, offering the recently-bankrupt city of Detroit as a wost-case-senario comparison.
If Christie faced one difficult question here today, however, it wasn't on pension reform or Atlantic City. It was about the governor's musical idol, Bruce Springsteen, as Christie was put on the defensive by a woman who asked why he is still playing the Boss' songs at his town halls after the latter allegedly disapproved of the act. Christie said Springsteen never said anything of the sort.
"Maybe when you were dancing with Bon Jovi up in the Hamptons?" the questioner asked, referring to the governor's latest dance-off at the Apollo Theatre fundraiser earlier this week.
"Well, no, I wasn't dancing with Bon Jovi, I was dancing with Jamie Foxx," Christie snapped before unleashing a wave of angry words on the woman.
"I saw Bruce maybe a week and a half ago, and he had every opportunity to tell me not to and he never has told me not to," Christie, a self-described Bruce Springsteen mega-fan, said. "Listen, I know him and you're wrong."
"Don't put it in Mr. Springsteen's mouth. Put it in yours," he added.