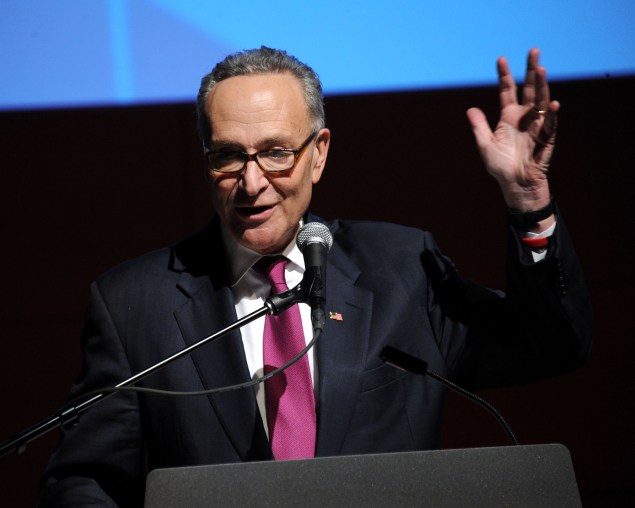 Senator Chuck Schumer isn't ready to defend Gov. Andrew Cuomo as controversy builds over interference into an anti-corruption commission the governor created.
Mr. Schumer, a fellow Democrat, was mum when pressed today on whether he thought the criticism of Mr. Cuomo and the disbanded Moreland Commission was fair. U.S. Attorney Preet Bharara, a Schumer protégé, recently launched an investigation into Mr. Cuomo's handling of the commission.
"It's an ongoing investigation so I'm not going to comment," Mr. Schumer told the Observer at an unrelated press conference in Manhattan today.
Mr. Cuomo came under fire recently after reports detailed how interfered with the anti-corruption body to block investigations into the executive branch. Mr. Cuomo created the commission last year, promising it would be an independent body free to investigate his office. He quietly put an end to the commission in April after winning a series of ethics reform concessions from the state legislature, irking good government groups and Mr. Bharara because they believed the Moreland Commission was terminated prematurely.
While Mr. Cuomo has claimed he had a right to interfere with the commission because he created it, there are questions among legal observers about whether he broke the law by trying to pull back subpoenas issued from commissioners Attorney General Eric Schneideman deputized. Mr. Bharara also warned Mr. Cuomo last week about possible witness tampering after several former members of the Moreland Commission publicly defended the governor in an effort coordinated by Mr. Cuomo's office.
For Mr. Schumer, the investigation into Mr. Cuomo represents a chink in the armor of a powerful elected official that he has never been close to. The New York Post described Mr. Cuomo as a "nemesis" of Mr. Schumer and Capital New York noted the senior New York senator had been "conspicuously silent" on Mr. Cuomo's troubles.
The ongoing investigation hasn't kept other Democrats from coming to Mr. Cuomo's defense. Mayor Bill de Blasio said last week that Mr. Cuomo was a "person of high integrity.