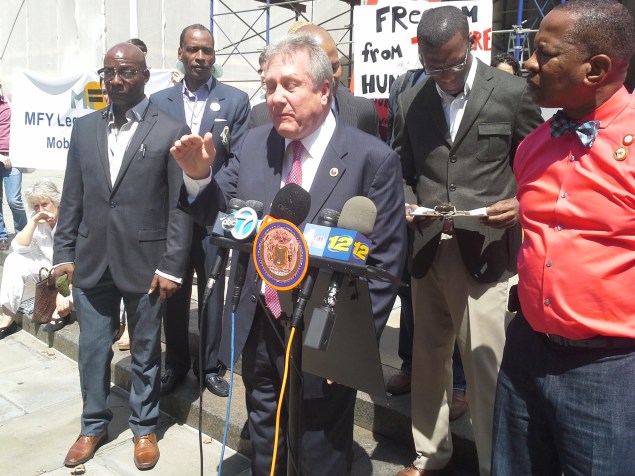 A couple of City Council members today blamed Norman Seabrook, the president of the correction officers union, for stonewalling reforms at the violence-plagued Rikers Island.
Queens Councilman Daniel Dromm and Bronx Councilman Andy King each took aim at Mr. Seabrook at a City Hall press conference dedicated to ending the "mistreatment" of inmates at the jail.
"Norman Seabrook needs to stand up and take accountability for some of what's going on at Rikers Island," Mr. Dromm told the Observer. "In fact, I'd say a lot of this started under the Bloomberg administration and if a leader of a union can start a screaming and yelling match with me, a council member, and Dr. Mary Bassett as well … if he feels free enough to treat elected officials like that, the message filters down to other corrections officers that it's okay to treat inmates as well like that."
"Norman Seabrook needs to step up and become part of the solution, not part of the problem," he added.
Mr. Dromm was just one of many speakers to take aim at Mr. Seabrook and correction officers at a press conference sponsored by a group known as the New York City Jails Action Coalition, a collective of activists dedicated to reforming city jails. One advocate called Mr. Seabrook, a fiery union leader who has defended guards in cases of alleged abuse against inmates, "Norman Seacrook." Others likened the jail, where many black and Latino men are incarcerated, to a breeding ground for modern day slavery.
Mr. Dromm said Mr. Seabrook shouted at him when he toured Rikers Island in his capacity as a council member, and referenced a reported incident when Dr. Mary Bassett, the health commissioner, was told by Mr. Seabrook that she would be "soiling her pants" if correction officers suddenly disappeared from the jail.
"This jail belongs to us," Mr. Seabrook yelled, according to the New York Times. "It does not belong to the department of mental health."
Mr. King said that Mr. Seabrook, as a union leader, has a responsibility to recognize when his members "do wrong."
"As a union person, coming out of a union family, if you want to build a trust for the public–whether it's inside a corrections facility or out here on the streets of New York–when your members do wrong, you must hold them accountable," Mr. King said. "That's the only way we can clean this up. Seabrook, anybody else, if they can't do that, then they ain't doing their job as the leader of a union."
Violence spiked at Rikers Island during the Bloomberg administration and Mayor Bill de Blasio has vowed, with a new Department of Correction commissioner, to reform what many call a broken jail system. Critics say those who are jailed, many of whom they say are mentally ill, suffer inhumane living conditions and are victims of brutal punishment meted out by correction officers. Mr. Dromm and other advocates want to limit the use of solitary confinement, for example, and the Queens lawmaker is likely to have a bill passed on Thursday that will mandate quarterly reports on the number of people placed in solitary and the reason for their confinement.
U.S. Attorney Preet Bharara asserted in a recent report that there is a "culture of violence" at Rikers Island that particularly hurts teenage inmates. Mr. Bharara said correction officers attacked inmates and rarely received punishment.
But Mr. Seabrook, who commands a great deal of loyalty from rank-and-file officers, has said repeatedly that correction officers are not to blame for the problems at Rikers Island. In a place where attacks on officers are also common, Mr. Seabrook has said that they are often victims themselves and need to maintain order in an environment filled with people who have broken the law before.
Mr. Seabrook, in a statement, offered support for Mr. Dromm's legislation and said he had a "fiduciary responsibility" to insure correction officers are safe.
"As President of COBA I have a fiduciary responsibility to my membership to insure their safety.

I have now and in the past recommended changes for this agency affecting the membership, inmates, and non uniformed employees of the New York City Department of Correction. They fell on deaf ears. I've spoken to the last administration, I've testified before the City Council, and have repeatedly spoken to the previous Corrections Commissioner Dora Schriro to sound the alarm, all to no avail.

I'm pleased to see that the Council is supporting legislation or local laws that will give the city a bird's-eye view as to the numbers of punitive segregation and other concerns. I hope this is not just another photo-op with council members and others that simply want to be seen and never follow up on what they have signed on to.

I'm happy that the US Attorney came in, conducted an investigation, and directed them to do something about what I've been screaming about for years."