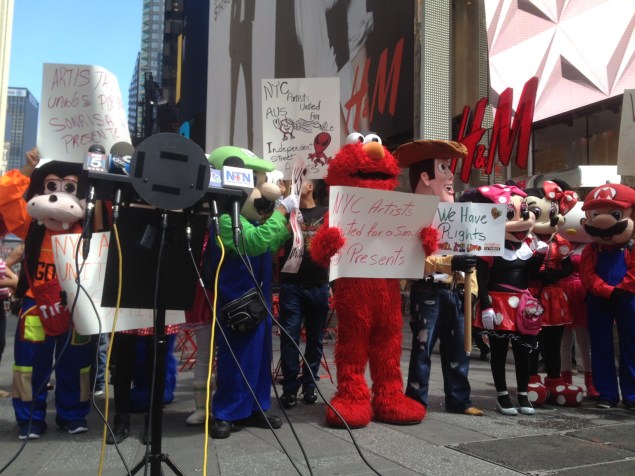 The Times Square Elmos, Iron Men, Mickey Mice and more held a press conference noon Tuesday in partnership with workers and immigrant rights non-profit organization La Fuente.
They gathered to announce their new workers association, New York Artists United for a Smile, which the group was reticent to call a "union" since they are all independent contractors. NYAUFAS went on to outline their newly compiled rules of conduct, asked that they not be demonized for the actions of a handful of criminals they do not condone and voiced their wish to be a part of the current conversation that has been splashed across the media these past weeks.
Lucia Gomez, the Executive Director of La Fuente, led the conference. "We're here today because the Times Square artists have come together to unite… because they understand that there's an image out there and they want to make sure that the image they are is what they project," Ms. Gomez said. "These are hardworking individuals who… bring smiles to New York, to the country and to the world as they come and… visit Times Square."
Workers earn an average of just $50-70 in a day, often working up to 10-12 hours straight. But now, with the backing of La Fuente, they are spelling out the "initial principles" of NYUAFAS, which include respect between co-workers, respect for tourists and the right to work for tips.
Several performers spoke to the attending press in Spanish, translated by Ms. Gomez, with their statements often interrupted by chants of "Si se puede!," or "Yes we can!" They stood at the podium, peeking out from underneath their characters' heads–most were still in costume–and pleaded for respect, the right to make a livelihood with tips and for the NYPD to stop harassing them for legally busking in public spaces.
Jovanna Melendez, a Minnie Mouse who has worked as a costumed character for about 5 years, addressed the crowd. "We no longer want to be the police's mark," she said. "We're not doing anything wrong."
Violent costumed characters have been widely reported, but a Batman named Jorge Vilchas explained that it is not uncommon for the characters themselves to get assaulted by passersby who think it would be funny to mock or even hit someone in an unwieldy suit. "We do this with love," Mr. Vilchas emphasized.
"It can really get annoying sometimes. Because you're standing out here… sweating all day and people will give you nothing, so that's not fair, but… it's all we have," Jorge Duran, 22, told the Observer from atop his stilts. Mr. Duran has busked in Times Square as the Statue of Liberty for five years. "We're doing this so people who don't have papers here have a voice."
Sean Basinski, Director of the Street Vendor Project, told the Observer that the police are targeting the costumed characters for the same reason that La Fuente has been helping them: their largely immigrant status. "[They] go after who doesn't fight back… the least powerful among us," Mr. Baskinski told the Observer.
Mr. Baskinski went on to link the worrying parallels between this harassment of buskers with other police involvement recently in the news. "Broken windows policing is behind all of this and it goes back to the NYPD, to Commissioner Bratton and Mayor de Blasio," he said. "They would say, I think, that these characters are harming the quality of life. I've lived [in New York] for a long time, and they've never harmed my quality of life. You see the happy faces of all the tourists and the kids, I think that they would say that they're [improving] the quality of life for those people."
Towards the end of the conference, Ms. Gomez made it clear that she supports the Municipal ID reforms that were recently signed into law, set to go into effect in January. She also said that the costumed workers are are actually very much in favor of a screening process and worker identifications. "I think [Mayor de Blasio] has done an amazing job at setting the tone," she said of the Municipal IDs. "All of the workers support an identification that can clearly say who they are, it helps them in all walks of life and that is well-received by absolutely everyone."
This sentiment was repeated by Elizabeth Holland who busks as a stylized police officer called Officer Friendly and is herself married to a Batman. "In my opinion, the identification would be the best because you're seeing who's underneath each character. When you take a picture you know that your children are not gonna be with somebody who… could be anybody," she said. "It's a little bit more [professional.]"
"The things that happened happened so that we can all be united as a family and say we're gonna put a stop to this, we're gonna do our jobs, and we're gonna respect authority… and everybody needs to know that," Ms. Holland said. "What I'd like to see is just taking out the violence, making this … a family oriented place."