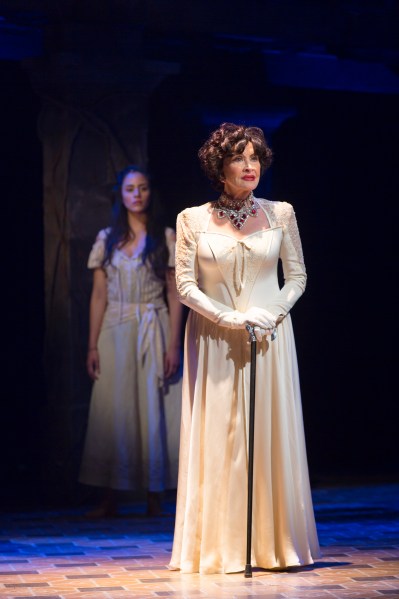 Dark, depressing and downbeat as Dante's Inferno, Swiss playwright Friedrich Dürrenmatt's stinging drama The Visit has intrigued producers ever since its initial New York premiere electrified Broadway in 1958 with Alfred Lunt and Lynn Fontanne making theatre history. Twice revived since then in stage productions starring Rachel Roberts and Jane Alexander, and diluted into a second-rate movie in 1964 with Ingrid Bergman and Anthony Quinn, The Visit is back this summer at the Williamstown Theatre Festival. This time it's a musical!
Originally conceived by Terrence McNally, with a somber musical score by the esteemed team of John Kander and Fred Ebb, as a vehicle for Angela Lansbury, it first lost its star and then Ebb. But it persevered, in various productions throughout the globe, all plagued with one hurdle after another. This summer, after 14 years of shaping, structuring and re-writing, it's hammering audiences to their seats again, under the careful direction of John Doyle, in the best condition since its musical inception. And in the dazzling, legendary Chita Rivera, it's found a polished star to bring it to life once more. A story of cutting cynicism, with Mr. Dürrenmatt's twisted theme—in a corrupt world, you always get the kind of justice you can afford—more relevant than ever, The Visit is not easy to absorb on a sunny August day when your friends are at picnics on the beach. But invest a few hours in this production on the shamrock-green campus of Williams College and you'll be glad you did.
Despite the addition of songs, Mr. McNally does not wander from the sinister sobriety of the play into musical comedy territory. It still tells the harrowing story of Claire Zachanassian, a poor girl from a Slavic village who was impregnated and deserted by a local boy she loved, then driven from the town in disgrace. After decades of a hardscrabble life during which she watched her daughter die and then whored and grifted her way through a long succession of husbands and prosthetic limbs, Claire returns to the village of Brachen as one of the world's wealthiest dowagers. "Married very often and widowed very well," she has endured everything and is now hell-bent on revenge. She's welcomed by the same people who tortured and destroyed her, all of them now convinced she has come home to solve their financial woes for old time's sake. "There's going to be a happy ending," sings the mayor. But of course the wronged woman, with the memory of an elephant and the patience of a scientist seeking the cure for an incurable virus, has other plans.
Instead of a savior, she has become a hardened, cruel, merciless cobra woman, offering billions that will save the town. But her largesse comes with a moral price—only if the townspeople agree to murder her former lover, Anton Schell (Roger Rees), who has become a popular and respected shopkeeper. The good people reject the proposal as heinous, but Claire is canny enough to know through experience that decency, honor and good will are no match for poverty and greed, and everything has a price if you wait long enough. She was once an outcast—half-Jewish, half-gypsy and 100 percent illegitimate. Her lover Anton eased her pain and gave her escape. He also gave her a baby and demanded she kill it. But how the tables have turned. The man she adored is now her victim, and the macabre finale freezes the heart.
The Visit is not about dancing, but with Ms. Rivera you can't rule out movement. Yes, she's supposed to have a wooden leg, but Graciela Daniele has choreographed her with tight, controlled movements that define her character without erasing the values of her talents. In her most stunning ballad, "Love and Love Alone," she taps out stylized rhythms with her cane. In another tailor-made tune, "I Walk Away," she describes the various circumstances of how her assorted husbands died and she just moved on to her next ill-fated adventure. Mr. Rees is wonderful as the doomed Anton, remembering, with brio and just a dash of supercilious braggadocio, what a figure he cut as a young stud in the song "I Must Have Been Something."
The funniest moment arrives musically when the men who testified under oath that Claire's baby could have been theirs—now blinded and castrated by her orders—appear as singing eunuchs, and the dishonest judge at her trial slaves as her butler. The score—more serious, somber and stolid than anything Mr. Kander and Ebb ever wrote—is not Cabaret or Chicago, but it serves the material brilliantly. The show that frames it is designed in muted colors of drab, faded black, white, brown and gray—except for accents in bright yellow shoes, gloves and even a lemon yellow tennis racquet. Scott Pask's somber, wintry set is a ruin of decaying columns covered with dead vines. The perfect supporting cast includes such theater veterans as Judy Kuhn, Jason Danieley and David Garrison.
Don't delay. Motor, hitchhike or bike it up to the picture postcard Berkshires pronto, and see this unforgettable production of The Visit before it gets to Broadway.