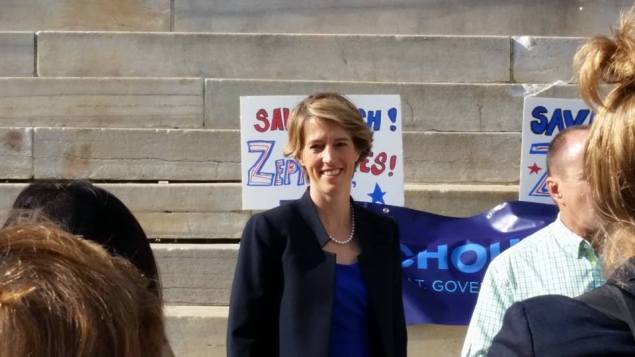 Democratic gubernatorial candidate Zephyr Teachout won a major victory in her challenge to Gov. Andrew Cuomo today, when a Brooklyn court dismissed claims from the incumbent's campaign that the Fordham University professor has not lived in New York long enough to run for its executive office.
The Cuomo team had contended that Ms. Teachout, a major underdog in the race, had not lived in New York State for a full five years, subpoenaing a raft of her tax and personal records.
Brooklyn Supreme Court Justice Edgar Walker, however, determined this afternoon that the allegations that Ms. Teachout had resided in her native Vermont in the past half-decade were spurious–just as the Board of Elections ruled on the Cuomo campaign's challenges to Ms. Teachout's nominating petitions. In his decision, Mr. Walker noted that Ms. Teachout's voter registration and tax documents placed her in a series of apartments in Manhattan and Brooklyn between 2009 and 2014, from which she commuted to her job at Fordham.
"It is evident that since June 2009, Ms. Teachout has clearly 'lived' in New York, as that term is commonly understood, in order to pursue her career as a Fordham professor," Mr. Walker wrote in his ruling. "The court finds that the petitioners have not met their burden of proving by clear and convincing evidence that Ms. Teachout fails to meet the constitutional residency requirement."
Ms. Teachout was triumphant after the decision, and demanded Mr. Cuomo debate her before the September primary.
"Today we beat the Governor and his old boys club in court. His two attempts to knock me off the ballot have failed–first by challenging my petition signatures, and second by challenging my residency," said Ms. Teachout in a statement. "We won rounds one and two. Now it's time for round three: a debate. New York Democrats deserve a debate between Andrew Cuomo and myself about the issues that real New Yorkers care about: schools, fracking, corruption and building a fair and strong economy."
The Cuomo team's attorney attacked Ms. Teachout, claiming she misrepresented her residency on her taxes, and vowed to appeal Mr. Walker's decision.
"Ms. Teachout admitted under oath that she misrepresented her address on official and tax documents. Will Ms. Teachout be paying the taxes owed to the State of New York? We will be appealing today's decision," said lawyer Martin Connor, a former Brooklyn state senator.
Updated to include Mr. Connor's comments.