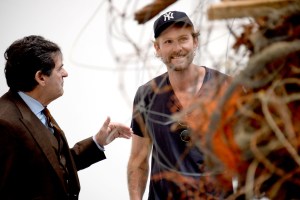 Most of the children involved with the Department of Homeless Services have surely never imagined a place like the Brant Foundation Art Study Center in Greenwich, Connecticut, the massive estate that contains a barn-turned-art museum, a lush green polo field, and masterful sculptures dotting the property—not to mention the Jeff Koons Puppy across the street. But come September, 100 of such kids will get to experience this suburban dreamland firsthand: Free Arts NYC will be hosting its annual Free Arts Day at the Foundation, where Dan Colen will give the kids a private tour of his retrospective, "Help!"
It will be the first Free Arts Day held outside of the city, and the first large-scale charity event held at the Foundation, said director of education Emily McElwreath. After Mr. Colen completes the tour of the show, there will be a number of activities, such as art projects and outdoor games, set up on various parts of the sprawling lawn.
"I'm constantly bringing groups from the city to see the Foundation, but this is the first time doing a project on this scale," Ms. McElwreath said.
The event takes place September 20, just a few weeks after the opening of Mr. Colen's second solo show at Gagosian, "Miracle Paintings." The fall show comes four years after his debut exhibition at Gagosian, "Poetry," had the art world commentariat in a screaming match for months.
We can't speak for the critics, but we think the kids at the Foundation will like Mr. Colen's work plenty. Perhaps previous Brant Foundation shows from other types of artists would have been less successful with a large group of restless little kids—we couldn't see this whole thing working with the Julian Schnabel retrospective, for instance. But "Help!" touches upon the themes that have marked Mr. Colen's work since he embraced sobriety after his friend Dash Snow's death: innocence, celebration, nostalgia. Indeed, it's surprising that the once-profane Mr. Colen—he of the drug-heavy parties in hamster's nest installations and show fliers featuring a Jewish prayer shawl hanging from his appendage—would be such an appropriate person to give a tour of his work to 100 impoverished young ones.
"So much of this art speaks to childhood, in a sense," Ms. McElwreath said. "You have the confetti paintings and the gum paintings and the found objects. And Dan is wonderful with children."
We're sure he is. And while the whole the outing will be quite different from the opening party for "Help!" held on the Brant Foundation lawn last May—with its champagne and canapes and Leonardo DiCaprio sightings—some of the downtown art crew that shipped out to Greenwich will be present again. The volunteer corps will include Mr. Colen's assistants, handlers and art world friends.