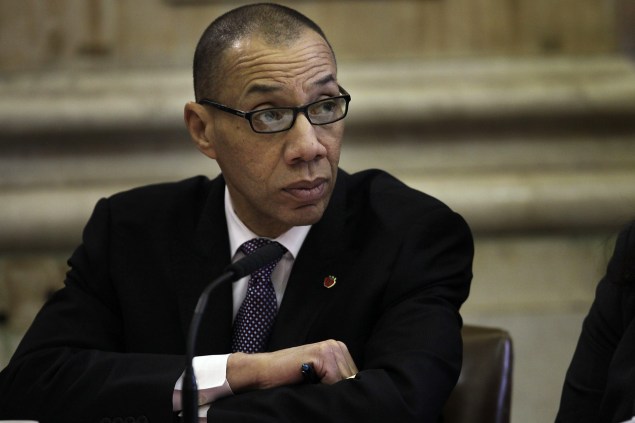 Even though he disagrees with much of his predecessor's policies on education, Mayor Bill de Blasio promised today to build on test score gains made by students in a school year overseen by both he and former mayor Michael Bloomberg.
Mr. de Blasio and Schools Chancellor Carmen Fariña announced the standardized test gains made by students for the school year that ended this June — half of which was under Mr. Bloomberg's tenure. But even as he celebrated those gains, he and Ms. Fariña emphasized they'd look to do better after instituting his own educational policies.
"It's a sign of many things to come. It's a beginning," Mr. de Blasio said at the Brooklyn Brownstone School in Bedford-Stuyvesant, Brooklyn.
He specifically touted his own approach: "Greater parental involvement because this is something that was left out of the equation. We're going to make it central to the equation. And the community school model, you're gonna see 100 by the end of this term."
"We know that these test scores reflect a school year that was in transition: the first half of the school year that was under the previous administration, the second half of the school year that was under our administration and we want to give credit, the credit that is due to the previous part of the administration for their part of the equation," he continued, noting he often "disagreed" with the Bloomberg administration. "They were right to put additional, substantial investments in education, they were right to focus on the Common Core curriculum."
Meanwhile, former Chancellor Dennis Walcott touted the gains in a press release — and plugged the Bloomberg Administration's support of charter schools, just one of many education policies on which Mr. de Blasio and his predecessor the last and current administration don't see eye to eye.
"Today's results show strong gains on state exams for New York City's children. By giving families quality school choices – including charters – and by holding both schools and students accountable for meeting high standards, major progress is possible," Mr. Walcott said in a press release.
Former Bloomberg press secretary Stu Loeser, who sent out Mr. Walcott's comments and still represents Mr. Bloomberg, noted via e-mail that the students taking the exams this year had been educated almost entirely during Mr. Bloomberg's tenure of mayoral control — with the eighth-graders starting kindergarten in 2005 and the third-graders in 2010 — until Mr. de Blasio took the reins in January.
In championing the test score gains, Mr. Walcott — who had previously served as a deputy mayor to Mr. Bloomberg — praised the education legacy of Mr. Bloomberg, who made reforming the city's schools a signature issue, often to the consternation of the teacher's union and parents who complained about standardized testing.
"Twelve years ago, we began turning around a flailing education system plagued by low standards and a lack of accountability, which deprived many New York City children of a high-quality education," Mr. Walcott said. "Today, high school graduation rates are up over 40 percent, dropout rates are down 50 percent, and our students of color in the city continue to make strong gains, particularly compared to white students in the state as a whole."
In addition to Mr. Walcott's comments, the press release — which made no mention of Mr. de Blasio — touted figures from the recently released state data, showing New York City ranking well above other large cities in the state.
Beyond charter schools, Mr. Bloomberg's education platform included a slew of tactics Mr. de Blasio didn't always agree with — closing low-performing schools with what critics claimed was little regard for parent and community input, giving schools letter grades based on performance, and a focus on standardized tests that Mr. de Blasio has repeatedly knocked.
Mr. Walcott's citing of "low standards and a lack of accountability" brings to mind both the Bloomberg Administration's emphasis on student test scores and its fight with the United Federation of Teachers over teacher evaluations — then-Public Advocate de Blasio's once called for the mayor to release publicly evaluations of his own staff if he'd seek to do so for teachers.
This story has been updated to clarify Mr. Loeser's comments.