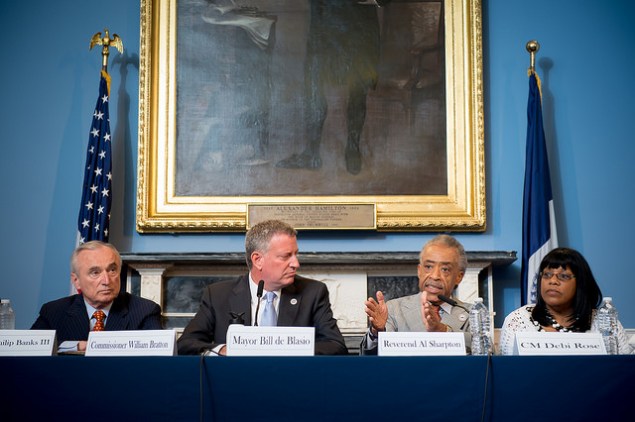 Mayor Bill de Blasio promised a "fair and justified" outcome today after the New York City Medical Examiner ruled that Eric Garner's death was a homicide.
Mr. Garner, a 43-year-old Staten Island man, died on July 17 after police placed him in an apparent chokehold, a prohibited maneuver.
"On behalf of all New Yorkers, I extend my deepest sympathies to the family of Eric Garner, on this day we have received the Medical Examiner's findings concerning the cause of his death," Mr. de Blasio said in a statement. "My administration will continue to work with all involved authorities, including the Richmond County District Attorney, to ensure a fair and justified outcome."
Mr. Garner died from compression of the neck and chest while being physically restrained by police officers, the medical examiner said, according to reports. Mr. Garner's asthma, obesity and high blood pressure were contributing factors in his death as well.
Mr. Garner, who was black, was targeted by police for selling untaxed cigarettes. Some elected officials, along with Rev. Al Sharpton, have argued that he was targeted because of his race. Mr. de Blasio's police commissioner, Bill Bratton, disagreed.
The mayor held a round table with Mr. Bratton, Mr. Sharpton, members of his administration and clergy leaders to address ongoing tension between the police and minority communities. Mr. Sharpton criticized Mr. Bratton for not going far enough to ease this tension—Mr. Bratton plans to retrain his force, particularly street cops, while Mr. Sharpton called for harsher penalties for potentially law-breaking officers.
Mr. Sharpton will hold a rally at his National Action Network headquarters tomorrow to address the medical examiner's findings. Mr. de Blasio, who is closely aligned with Mr. Sharpton while also boosting Mr. Bratton in public, did not immediately make clear he would attend the rally in Harlem.
"We all have a responsibility to work together to heal the wounds from decades of mistrust and create a culture where the police department and the communities they protect respect each other—and that's a responsibility that Commissioner Bratton and I take very seriously," Mr. de Blasio said.
He added, "I've said that we would make change, and we will. As mayor, I remain absolutely committed to ensuring that the proper reforms are enacted to ensure that this won't happen again."