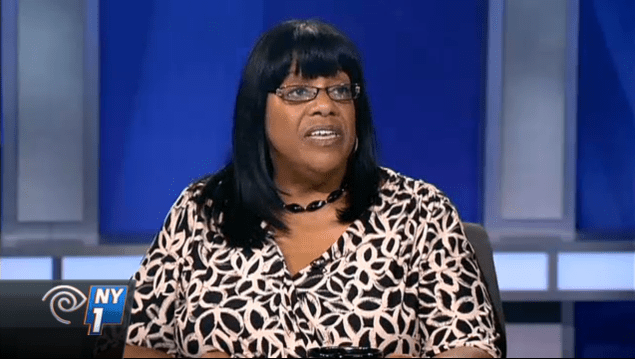 A bad apple spoils the whole precinct.
Councilwoman Debi Rose, a Staten Island Democrat, renewed called for the NYPD to boot "bad actors" from its ranks on NY1's Inside City Hall last night — and said the 120th precinct in her district, whose officers were involved in the chokehold death of Eric Garner, has plenty of them.
"Seven out of 10 of the most-sued police officers are in that precinct," Ms. Rose said, using a figure reported in a Daily News review of claims filed against city cops. "How is it that they have been allowed to remain on the force and go out? If you know that you have bad actors they should be benched. They should be terminated."
Ms. Rose told host Errol Louis that removing problematic cops was something she'd discussed with Police Commissioner Bill Bratton, who has made several trips to Staten Island since Mr. Garner, 43, died as police were attempting to arrest him for allegedly selling loose cigarettes. 
"He said that he was going to retrain all of the department. Not only do they need to be retrained, but there needs to be an element of cultural competency. There also needs to be accountability," Ms. Rose said. "When there are violations of the rule book and the regulations, there should be — they should be held accountable, and there should be consequences," Ms. Rose said.
Mr. Garner's death has been ruled a homicide by the medical examiner's office. Police used what Mr. Bratton has characterized as a chokehold to bring him down — a maneuver banned by the NYPD patrol guide since 1983 because it can lead to death.
"If you're on the street and you break the law, there are consequences. Police officers are supposed to be protecting us, and they break the law, there should be consequences," Ms. Rose said.
Because he was being targeted for a nonviolent crime, Mr. Garner's death has ignited controversy surrounding Mr. Bratton's much-touted "broken windows" theory of policing — aggressively enforcing quality of life laws to reduce overall crime. Ms. Rose said the are where Mr. Garner had his final encounter with police does have problems with quality of life issues — but the police response has been unwarranted.
Police were summoned to the area for a fight, which Mr. Garner broke up, Ms. Rose said — and while police recognized him as someone they'd arrested for selling looses many times before, Ms. Rose maintained he had not been selling cigarettes when the police approached him.
"We're not even sure what brought them to the area, but when they recognized Eric Garner, they decided that they were going to bring him in for selling loose cigarettes, and their reaction — they overreacted and it resulted in his death," Ms. Rose said.